Sam Newman under fire for comments against co-host Rebecca Maddern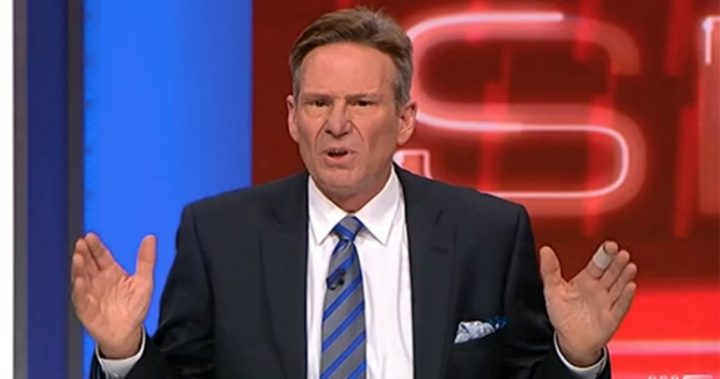 There was once a time when inappropriate comments at the workplace were ignored, and the culture of saying as you please to a woman was not met with disapproval. However, in the increasingly aware world we live in, comments like the ones made by Sam Newman on-air towards his Footy Show co-host Rebecca Maddern and indeed other women, are too hard to ignore.
Read more: Sam Newman backs old mate Eddie and attacks Caroline Wilson
The comments are workplace harassment, bordering on "unlawful", Victoria's top domestic violence advocate says.
But Mr Newman has told the Herald Sun he sees no problem in his remarks, including telling Ms Maddern to "come get on your knees" or "lie nude" on the panel.
A defiant Mr Newman said that even if people regarded it as sexist, it would have "no effect" on what he said in the future.
Domestic Violence Victoria chief executive Fiona McCormack said Newman's comments must be taken seriously.
"This actually constitutes workplace harassment and could even be unlawful," she said.
Ad. Article continues below.
"Some men kid themselves that women want the attention and will be flattered but so many women are put in these awkward situations at work and worry that if they speak up, there'll be a backlash."
Despite being the target of more than a dozen jibes, Maddern said "Sam will always be Sam".
"Some people may judge his comments as sexist, I don't particularly," she said.
"If he says something that may be in wrong town a little bit I just don't give it any oxygen and move on with the rest of the show. We are there to talk about footy."
Ms McCormack said Channel 9 needed to ensure a respectful and equal workplace.
Ad. Article continues below.
"Why aren't they calling this out? Where are the producers?" she said.
"If we're really serious about stopping violence against women in Australia, we need to challenge the culture that allows it to flourish."
Mr Newman said he treated all people equally and didn't see anything wrong with his attitude on the show.
"I don't care what they make of it, it makes no influence in what I say at all, because I know that in the context of what I say, it's about intent, so that's no problem to me at all," he said.
Mr Newman has directed several jibes and suggestive comments at the former news anchor throughout the latest season of the long-running Channel 9 show.
Ad. Article continues below.
In June, the former Geelong champion told Ms Maddern he "detected her dress was see- through".
Discussing being approached to run for Melbourne lord mayor in June, Mr Newman smirked at the camera, repeatedly telling his co-host she could be "under him".
What do you think of Sam Newman's comments? Do you think he's taken his behaviour too far?