Sabotage, real party ructions, or a smokescreen for the #TURC?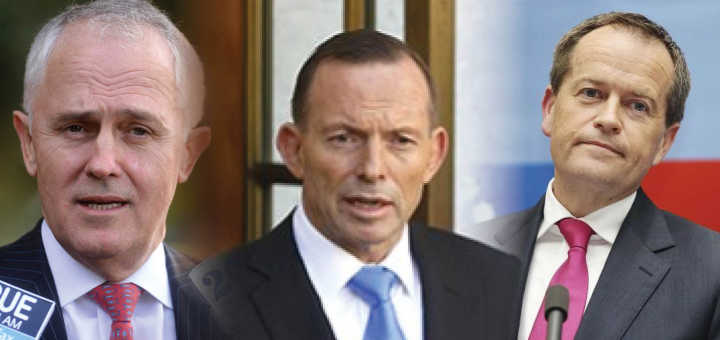 The media is alight this morning with pressure on Malcolm Turnbull to challenge Tony Abbott in the lead up to the Canning by election which is expected to be a bloodbath for the Liberals.  With a sitting week ahead and the  it seems the pressure is on the destabilise the government and see if they crack under pressure, a game the Australian media have become rather good at.  On the same day the Trade Union Royal Commission kicks off again in Brisbane, others are saying this could be a smokescreen to distract from the messes in Labor ranks too.  Could it be that on a slow media Monday, with Parliament returning, a by election ahead and a potentially cutting blow coming from Trade Union examinations, that the counter attack might be well-timed by Labor?
There's no doubt about it, the media race to sabotage Abbott is firmly in play, and with numbers not so strong it isn't hard to do.  For some weeks now there has been word that Labor media players are feeding internal dissent stories into the machines of the major press.  And they seem to thrive on it.
Overnight, the first shot has been fired by the Herald Sun who is reporting that "Malcolm  Turnbull is refusing to rule out challenging Tony Abbott for the prime ministership".
The ABC is says they has spoken to eight ministers and six believe Tony Abbott will be challenged no matter what happens at the Canning by-election in Western Australia next Saturday.
And the Sydney Morning Herald  says that some of Malcolm Turnbull's advocates in the party are urging him to challenge Abbott for the leadership this week when Parliament resumes
Ad. Article continues below.
Unfortunately for Mr Abbott it seems general discontent is hammering his cabinet and backbenchers, and they can't keep towing the party line. Liberals are still ahead on a two party preferred basis, but the margin has closed to a 52/48 margin between the Liberals and Labor.
One Cabinet Minister told the ABC that the Government had given Abbott 6 months, 6 months ago.
"And that's after we spent $1 million on that seat to save the Prime Minister, and Labor has spent nothing…He should just resign."
Newscorp papers say the Prime Minister has brushed off any suggestions he will call an early election, saying he intends to govern until mid-next year.
Abbott's supporters said to Newscorp that "the leadership "chatter" is heightening in a targeted strategy to sabotage the Canning by-election and bring on a challenge".
Do you believe the media is being used to sabotage Abbott and the Liberals, destabilising the government before a rather challenging by election this weekend?  Or do you think it could be a Labor party fed media smokescreen for the Trade Union Royal Commission which will potentially expose unfavourable behaviours in the union movement?