Russian leader Nemtsov shot dead: Pray for Russia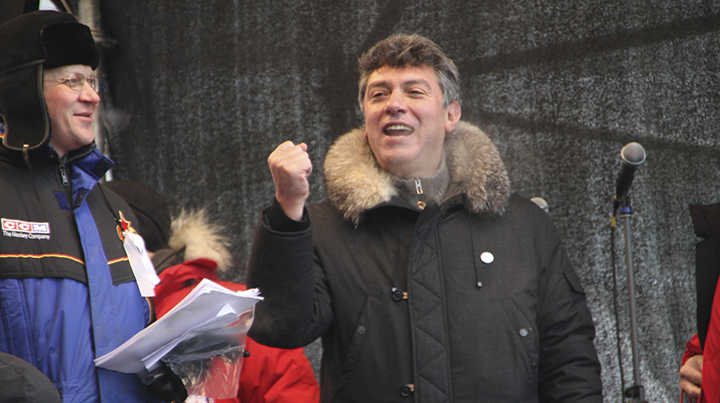 It is a dark day in Russia today, following the shooting of their opposition leader Boris Nemtsov, outspoken former deputy Prime Minister under the late Boris Yeltsin and crusader against corruption.  The leader was a recognised detractor of President Vladimir Putin and was due to speak at a significant rally this weekend, against the current government war in Ukraine, in just days.  We have to ask just how, in this day and age, a significant political figure of such an important nation can be killed right outside the political headquarters of the country… without their involvement.  And it seems many on social media agree.
The Interior Ministry of Russia said that Nemtsov was shot four times from a passing car in one of the most heavily armed areas of central Moscow, nearby to the Kremlin and St Basil and photos in media (below) show just how close his death was to the heart of the city.  Putin himself has apparently quickly condemned the killing, taking personal control of the situation.  But many believe the killing, which Twitter reports say was a "contract murder" came from the core.
Social media outpourings in Russia immediately leapt, and rumours abounded that Nemtsov had received death threats but that authorities did nothing to protect him.
"I'm afraid Putin will kill me," he told the Sobesednik blog two weeks ago in an interview, citing his activism. Regarding the Russian president, he added: "I couldn't dislike him more."
Opposition figure Mikhail Kasyanov, a former Russian Prime Minister, said he was shocked in the USA Today.  "In the 21st century, a leader of the opposition is being demonstratively shot just outside the walls of the Kremlin!" Kasyanov told reporters as police removed Nemtsov's body as the Kremlin bells chimed. "The country is roiling into the abyss."
Ad. Article continues below.
Reports now that police are ransacking Nemtsov's home. Putin's enemies are always victims, and his victims are always suspects.

— Garry Kasparov (@Kasparov63) February 28, 2015

Former Russian deputy PM Boris Nemtsov has died after being shot four times in Moscow http://t.co/SfF1upr98r pic.twitter.com/uP9ZVFPfbp

— Sky News (@SkyNews) February 28, 2015

Here is #Nemtsov a few hours before his death at a Moscow radio station, encouraging people to Sunday's protest. pic.twitter.com/CEHweHUDQD — Julia Ioffe (@juliaioffe) February 28, 2015

In our office, it got us talking about the importance of two-sided politics, the standards of which we know so well in Australia can lead to national turmoil, but never murder.  
Obama has come out and condemned the killing.  "I admired Nemtsov's courageous dedication to the struggle against corruption in Russia and appreciated his willingness to share his candid views with me when we met in Moscow in 2009," Obama said in a statement. "We offer our sincere condolences to Boris Efimovich's family, and to the Russian people, who have lost one of the most dedicated and eloquent defenders of their rights."
Statement by the President on the Murder of Boris Nemtsov: pic.twitter.com/NqPmRcRhIO — The White House (@WhiteHouse) February 28, 2015
Do you remember back to the dark days of the Cold War and the elevated tensions in Russia that almost destroyed their economy last century?  Share your thoughts on this latest horror today.