Woman offered thousands after snapping incredible photo of royals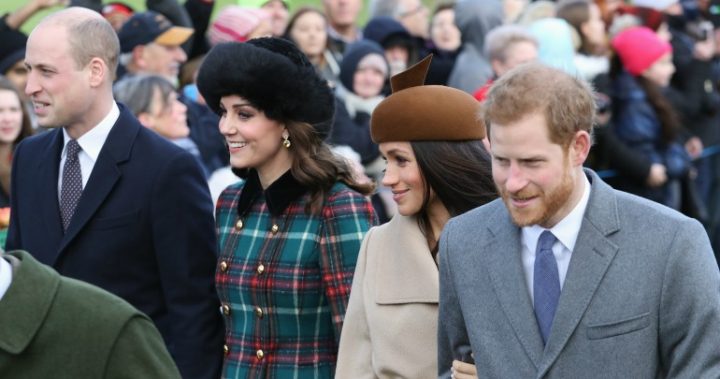 A British mother has become a media sensation after snapping a beautiful candid photo of the royals on their way to a Christmas church service on Monday.
Karen Anvil was at Sandrinham with her daughter to see the Royal Family when she managed to outdo every professional photographer there and capture a photo of the Duke and Duchess of Cambridge, Meghan Markle and Prince Harry looking at the camera and smiling.
Anvil told the BBC she was at the event with her 17-year-old daughter and couldn't contain her excitement with the stars of the show walked past.
"I'm just very bubbly by nature and I was with my daughter and I got a bit excitable, I suppose," she said.
"I was just sort of shouting and I just went 'Merry Christmas!' like an idiot. I was fan-girling.
Ad. Article continues below.
"That's all I said and got them to look."
Waiting at #Sandringham to see the Royals and got this photo!!! #MeghanMarkle #Kate #PrinceHarry #PrinceWilliam pic.twitter.com/ZLLgrtKzTM

— Karen Anvil (@Anvilius) December 25, 2017
Read more: Meghan Markle shows cheeky side at first Royal family
She didn't realise how amazing the picture was until she put it on social media and was quickly flooded with media requests asking to use it.
Ad. Article continues below.
The photo has since been liked nearly 34 thousand times and has featured on the front of the BBC, The Guardian and the Daily Mail.
"The thing is – and I hate to play the single mum card – I'm a single parent, I work two jobs, which I'm proud of and I've always worked," Anvil told the BBC.
"Now I want to save money for my daughter for uni and if I can do that, and can get that opportunity that's amazing."
Read more: Queen delivers sentimental Christmas speech about Philip
What do you think of the happy snap? One for the history books?