Windsor Castle gets an incredible Christmas makeover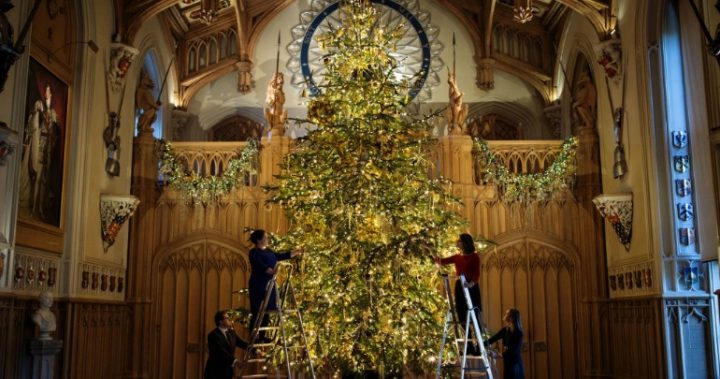 Queen Elizabeth is welcoming Christmas at Windsor Castle with a magical seasonal makeover and a massive six metre (20ft) Nordman Fir tree.
Rather than spending hundreds on the perfect tree though, the royal's stunning tree is sourced from the very own Queen's back garden, at Windsor Great Park.
Staff at the Windsor residence have been busy preparing the castle ahead of the festive period. 
Decorations follow a royal gold and red theme this year, with baubles shaped like crowns, glittery pine cones and large velvet bows. 
The tree is also frosted with gold tinsel and twinkling fairy lights, while a traditional angel tops the huge tree. 
Ad. Article continues below.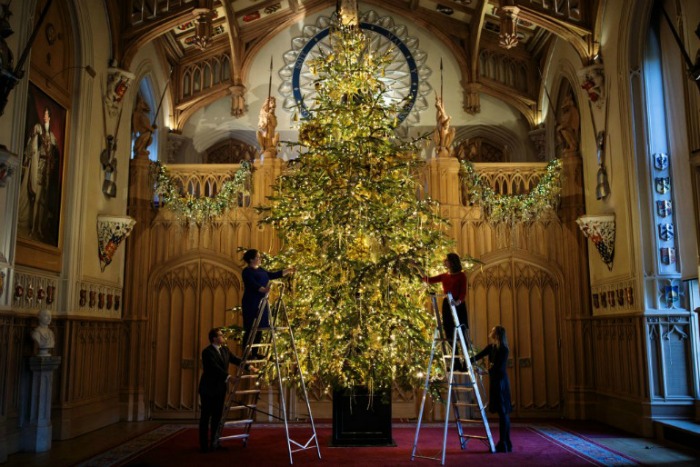 A second almost five-metre high tree, decorated in red was put up in the Crimson Drawing Room.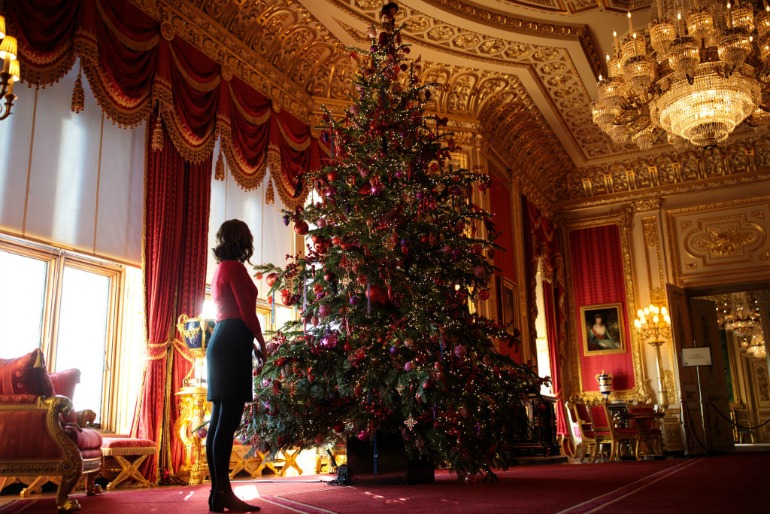 The State Dining Room also received a festive revamp, decked out with silver gilt pieces from the Grand Service, commissioned by George IV, which is still used by the Queen today. 
Staff decorated the dining room with beautiful ornaments, and polished up the silver ware ahead of Christmas day. 
The royal family celebrate Christmas over three festive-filled days that includes the exchange of cheap and cheerful gifts on Christmas Eve.
Ad. Article continues below.
Christmas day itself is spent playing games, and preparing for Prince Phillip's traditional boxing day shoot. In the afternoon Prince William and Prince Harry play a friendly charity football (soccer) game with the local pub team.
The royals enjoy an old-fashioned English breakfast followed by a traditional turkey for Christmas lunch. Dinner is a tasty buffet that they serve themselves as the staff have the rest of the day off.
The Queen usually attends a Christmas Day church service, but was absent last year due to recovering from a mild cold. 
Last week, the Queen and Prince Phillip celebrated their 70th wedding anniversary at Windsor Castle. More than 100 guests attended and toasted to the royal couple, who married 70 years ago in Westminster Abbey. 
Read more: Queen gives Prince Philip very special anniversary gift.
What do you think of this massive Christmas tree? Have you put yours up yet?