The Queen honours former soldier with George Cross for amazing bravery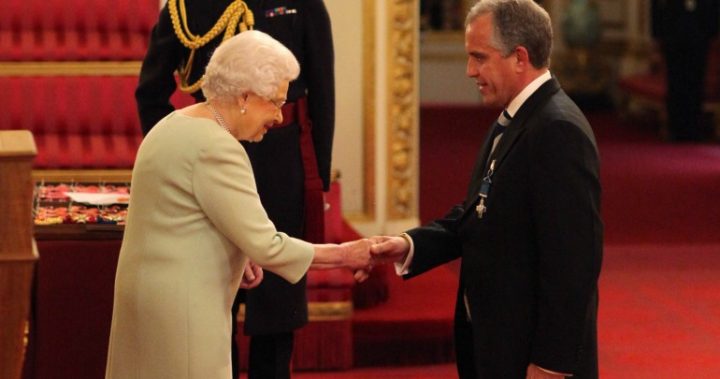 Queen Elizabeth has awarded a British man was an honour close to her heart, giving a retired SAS hero the award for bravery named after her own father King George.
Retired SAS officer, Major Dominic Troulan, became the first civilian in more than 40 years to be awarded the George Cross, after saving hundreds of people during a siege in a Kenyan shopping mall four years ago.
The former soldier, who reportedly spent 20 years in the British army's special forces, was living in Nairobi and working as a security consultant when Islamic militants attacked the Westgate shopping centre in 2017, killing shoppers and taking hostages.
Troulan heard about the attack from a friend whose wife and daughter were trapped inside, so grabbed a gun, jumped on his motorbike and sped to the mall, where he ran in and out over and over again over several hours, shepherding about 200 people in total – including his friend's family – out of the danger zone.
Yesterday he accepted the George Cross – the highest award for bravery for civilians awarded in the UK, from the Queen at a ceremony at Buckingham Palace.
Ad. Article continues below.
But he called himself merely a "custodian" of the honour, dedicating it to "all victims not only of Westgate but of terrorism generally".
In a separate Instagram post. the Royal Family explained that the George Cross was created by the Queen's father, King George VI, in 1940 to recognise the many acts of civilian courage shown in London during the height of the Blitz.
Ad. Article continues below.
"The George Cross is awarded 'for acts of the greatest heroism or for most conspicuous courage in circumstance of extreme danger'," the post said.
Do you remember the Westgate attack?