The Duchess of Cambridge had a stunning second wedding dress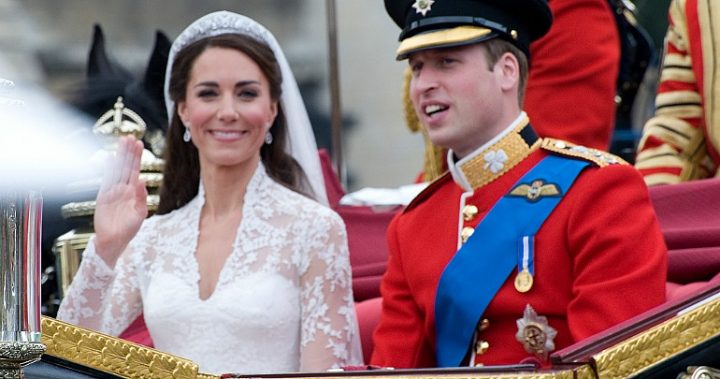 Millions of people tuned in to watch Kate Middleton walk down the aisle and marry her prince, but while her stunning custom-made gown quickly became one of the most photographed dresses in the world, the new Duchess had something else up her sleeve — a second equally beautiful dress for her reception that night.
With so much attention focussed on Catherine's lace Alexander McQueen wedding dress and all of the pomp and ceremony that came with the day, her reception dress largely flew under the radar until now.
Pictures from later that evening show the new Duchess walking through Buckingham Palace in a gorgeous white gown complete with a sweetheart neckline and embellished belt.
She added a touch of modern flair with a cute fluffy white cardigan over the top and unpinned her hair, which had been kept off her face for the ceremony, to create a more relaxed look.
Ad. Article continues below.
The second dress was also designed by Sarah Burton of Alexander McQueen, who had her work cut out for her on the day; she also created Pippa Middleton's maid-of-honour gown.
Prince William also changed his outfit for the evening, swapping his military uniform for a classic tuxedo.
As William is not first in line to the throne the couple were allowed to keep some aspects of their wedding more relaxed (by royal standards) and modern.
Pop singer Elle Goulding sang a cover of Catherine's favourite song, Elton John's Your Song for the couple's first dance. 
Ad. Article continues below.
They also drove out of Westminster Abby in Prince Charles' vintage Aston Martin DB6 Volante decorated with a cheeky Learner plate surrounded in hearts and helium balloons baring their initials.
What do you think of Kate's second dress? Did you change into a different outfit at your wedding?