Royals share rare look at Queen and Princess Margaret's childhood bond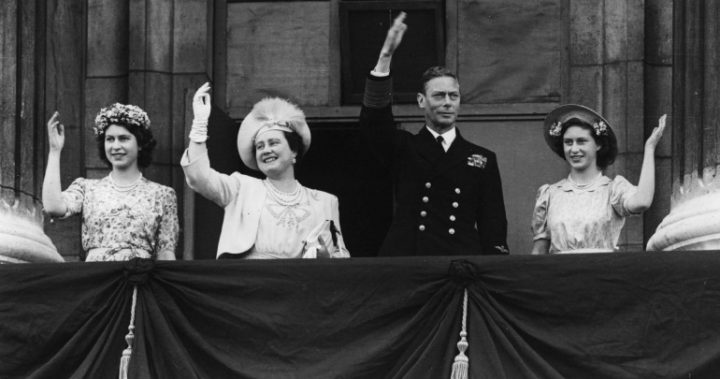 The royal family have celebrated World Book Day with a rare look at the close bond between the Queen and her sister Princess Margaret as children – as TV series The Crown continues to portray their turbulent adult relationship.
The pair are seen huddled together on a sofa reading a book in a throwback photo, taken in 1940. Shared on the royals' official Instagram page, the black and white photo gives a glimpse inside a more relaxed day at Buckingham Palace.
While Queen Elizabeth is seen smiling as she holds the book on her knee, her younger sister points to a page as she reads with her. Both of the young royals have their hair in tight curls round their face, and looks almost unrecognisable.
Keeping their legs crossed, they had clearly learnt etiquette from a young age, and both wore similar outfits. With classic portraits on the wall behind them, and a bag draped on the floor, it's a surprisingly relaxed pose in the grand room.
Ad. Article continues below.
The caption read: "Happy #WorldBookDay! This photograph from @Royal_Collection_Trust was taken in c.1940 and shows The Queen, then Princess Elizabeth, reading with Princess Margaret in Buckingham Palace."
It comes as The Crown shows a very different side to their relationship, with the pair often feuding over Margaret's past relationships, although they remained close in later life.
Fans shared their delight at the photo, with one writing: "I love these shots of the young princesses. Take away the grand digs and they're your regular well-behaved girls up the block."
Another added: "I truly adore seeing photos of the Royal sisters before the world was put on Elizabeth's shoulders. But what shoulders they were and are still to this day! God Save the Queen," and one wrote: "So beautiful and elegant."
Ad. Article continues below.
Princess Margaret sadly died at the age of 71 in 2002 following a stroke. The queen announced the death "with great sadness," according to a statement from the palace.
Meanwhile, the Queen herself has been keeping very busy recently as was pictured smiling broadly alongside Anna Wintour, the famously chilly editor of Vogue's US edition, at London Fashion Week.
She watched the parade for a collection by new British designer Richard Quinn, and presented the inaugural Queen Elizabeth II Award for British Design, also to Quinn, to recognise big emerging design talents.
Read more: One wants one! The Queen loves her first-ever fashion week visit
Ad. Article continues below.
Wintour, whose haughty demeanour and allegedly icy treatment of staff was caricatured in the book and then the movie The Devil Wears Prada by Meryl Streep, who played the 'Wintour' character called Miranda Priestly with devastating bitchiness, was photographed making conversation with the monarch and even smiling happily. She did not, however, take off the large sunglasses that she's rarely spotted without.
Queen Elizabeth upped her own fashion game for the event, wearing her usual two-piece ensemble, but this time the pale blue wool tweed dress and jacket was embellished with aquamarine Swarovski crystals. She stuck to her signature black gloves, however, with her favourite design of handbag in patent black and matching black court shoes.
Do you like to see childhood photos of the Queen? Did you enjoy reading with family?