Prince Harry told not to invite Obamas to his wedding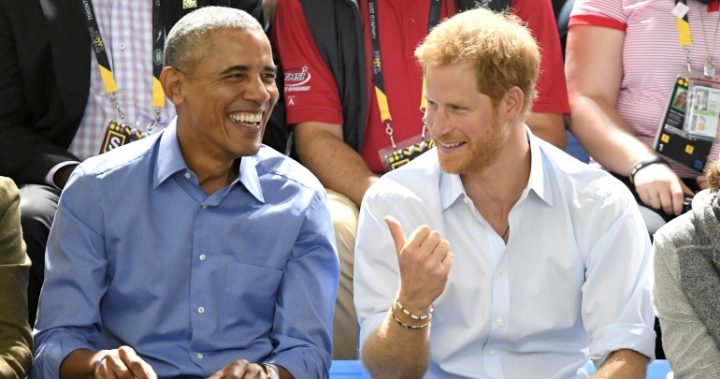 Organising a wedding should be one of the most joyous times for a newly engaged couple, but Prince Harry and Meghan Markle have been thwarted by the British government.
The Sun reports the government has warned the couple against inviting Barack and Michelle Obama for fear it will enrage Donald Trump, who is yet to make an official visit to the UK.
The Obamas and Prince Harry have become close friends over the past few years. The former Fist Couple have been strong advocates for Harry's Invictus Games and the trio have been snapped sharing a laugh on many occasions.
However a senior government source says MPs are worried that snubbing Trump in favour of the Obamas will make it near-impossible for British prime minister Theresa May to work with the US president.
"Harry has made it clear he wants the Obamas at the wedding, so it's causing a lot of nervousness," the source told The Sun.
Ad. Article continues below.
"Trump could react very badly if the Obamas get to a Royal wedding before he has had a chance to meet the Queen."
Ad. Article continues below.
The source said that if May decides it's in the country's best interest to keep Trump on side, Harry and Meghan will have to "suck it up" and celebrate without the Obamas.
Relations between Britain and the US have been strained since Trump took office. In November, May publicly scolded Trump after he tweeted fake anti-Muslim propaganda videos.
She also jumped to the defence of London mayor Sadiq Khan after Trump's son Donald Trump Jr criticised the Muslim mayor's response to the Westminster terror attack in March.
For her part, Meghan made her views on Trump clear in the 2016 presidential election when she called him a "misogynist" on The Nightly Show with Larry Wilmore.
Ad. Article continues below.
As the wedding is not a State event, the government only has a consultative role on the guest list, which is compiled by Buckingham Palace.
Aside from the Royal Family, other high-profile celebrities expected to make the list include Elton John, Ed Sheeran and Meghan's Suits co-stars.
Do you think Harry and Meghan should be able to invite whoever they want? Or is it important to keep up appearences in this case?