Prince Harry grills Barack Obama in rare new interview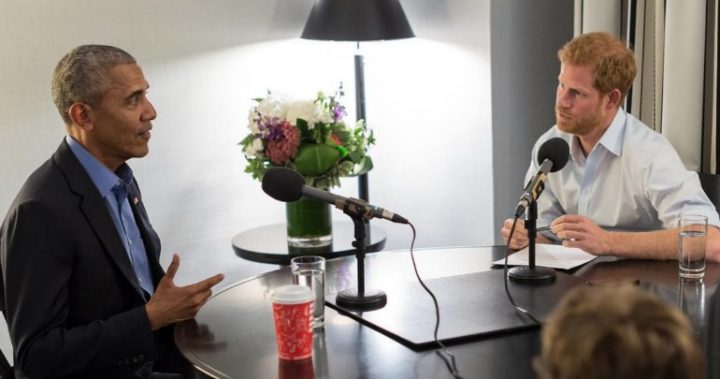 Prince Harry has sat down with former US president Barack Obama for a tell-all interview.
Kensington Palace broke news of the interview earlier this month and fans of both the royals and US politics had a chance to listen to the pair chatting on BBC Radio 4 in the UK.
During the interview, the pair discussed everything from the dangers of social media to being world leaders and the rise of fake news.
Read more: 'I'm nervous about this': Prince Harry cheekily interviews Obama
One of the big topics of conversation was the pressure of being a president and in the public eye. Obama suggested it was something that he struggled with.
Ad. Article continues below.
"It's hard, being in the public eye is unpleasant in a lot of ways," he explained.
"It is challenging in a lot of ways. Your loved ones are made vulnerable in ways that might not have been true 20 years ago or 30 years ago."
He described it as a "sacrifice" but said that the rewards of making a positive change in the world outweighed the bad.
Obama also suggested that the internet was becoming more dangerous and that it's not always entirely accurate when it comes to informing the masses.
Ad. Article continues below.
"One of the dangers of the internet is that people can have entirely different realities," he explained to Prince Harry.
"They can be cocooned in information that reinforces their current biases. The question has to do with how do we harness this technology in a way that allows a multiplicity of voices, allows a diversity of views, but doesn't lead to a Balkanisation of society and allows ways of finding common ground.
Since Donald Trump was elected president, he's been an avid user of Twitter to get everything and anything off his chest.
He has also said that it's his way of speaking directly to the American people.
While Obama didn't mention Trump by name, he noted the importance of face-to-face communication.
Ad. Article continues below.
Ad. Article continues below.
Read more: 'The family she never had': Prince Harry on Meghan's royal Christmas
"Social media is a really powerful tool for people of common interests to convene and get to know each other and connect," he said.
"But then it's important for them to get offline, meet in a pub, meet at a place of worship, meet in a neighbourhood and get to know each other.
"Because the truth is that on the internet, everything is simplified and when you meet people face-to-face it turns out they're complicated."
Ad. Article continues below.
Ad. Article continues below.
Prince Harry, who interviewed Obama and edited the segment himself, later described the interview as "fun".
"I haven't done that many interviews but it was quite fun, especially interviewing President Obama despite the fact he wanted to interview me," he said.
"It's been a big learning curve but also these are incredibly important topics we all need to think about and need to be discussed."
Did you listen to the interview?