Palace releases adorable photos of Charlotte's first day at preschool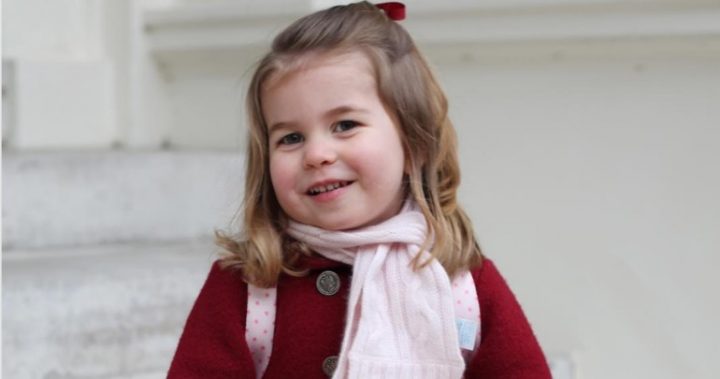 Princess Charlotte is growing up fast! Kensington Palace has released two gorgeous new photos of the young princess heading out to her first day at nursery school.
The photos were taken by Charlotte's mother, the Duchess of Cambridge, and show the young princess, 2, smiling on the steps at Kensington Palace.
"The Duke and Duchess of Cambridge are very pleased to share two photographs of Princess Charlotte at Kensington Palace this morning," the Palace said. "The images were taken by The Duchess shortly before Princess Charlotte left for her first day of nursery at the Willcocks Nursery School."
Willcocks Nursery School, a prestigious institution that focuses on creative learning and good manners — perfect for a princess in training.
Ad. Article continues below.
The school is just a five-minute drive from the Duke and Duchess of Cambridge's home at Kensington Palace, which is good news for them as they've both been asked to accompany the young princess on her first day. William and Kate were asked to attend a "stay and play" session to help Charlotte settle in and get used to her new classmates and teachers.
Ad. Article continues below.
The couple will stay with Charlotte for part of the morning and then leave the room once she appears comfortable. They won't stray far on the first day though, with parents asked to wait near by in case their child becomes upset by their absence.
The gentle approach is said to help the children adapt faster and learn that the nursery is a safe place.
Willcocks is owned and run by headmistress Lavinia Taylor, with an all-women staff, and emphasises on learning through fun. Charlotte will attend morning sessions from 9am to 12pm, which are described by the school as "a fun and structured morning with lots of free play where children embark on the first stages of learning to read, write and to understand simple numbers with the minimum of pressure".
Creative learning seems to be a key factor in William and Kate's approach to their children's education.
Ad. Article continues below.
Prince George started school at Thomas's Battersea in south London in September last year, with the promise of creative activities and learning the school's code of core values, which include courtesy, confidence, humility, and learning to be givers, not takers.
The Cambridges modern approach to education is in stark contrast to William's own schooling. He attended a private boys boarding school an hour outside of London in his younger years before being sent to Eton — the prestigious private school known for spurting out future politicians and royals.
What do you think of the adorable photos? Are you enjoying watching the young royals grow up?