Littlest Danish royals mourn grandad Prince Henrik amid sea of flowers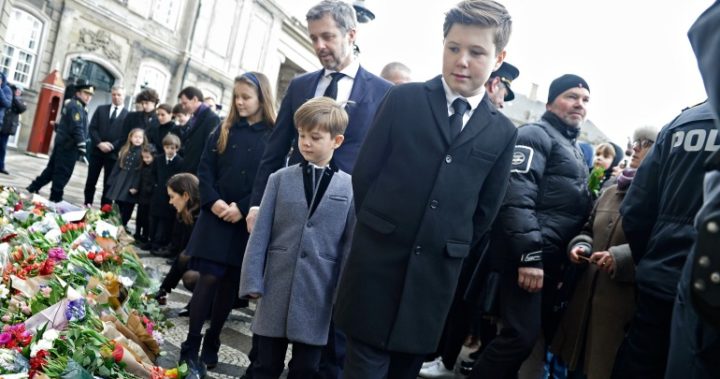 Princess Mary, Prince Frederik and the rest of the Danish royal family united to admire the tributes to the late Prince Henrik, two days after 83-year-old died in his sleep.
His wife, Queen Margrethe, led the family's public mourning of Henrik, as they followed his coffin in convoy from Fredensborg Castle, where he died, to Amalienborg Palace in the centre of Copenhagen. Admiring the piles of flowers and messages left by the public, Mary, whose husband Frederik is Margrethe and Henrik's eldest son, stayed close to her children Christian, 12, Isabella, 10, and twins Josephine and Vincent, 7.
They were joined by Frederik's younger brother Prince Joachim, his wife Marie and their children Henrik, 8, and Athena, 6, as well as Joachim's children from his first marriage, Nikolai, 18, and Felix, 15.
A video released by the family shows them gathering around the front of the palace, a solemn-looking Mary and Frederik walking together, while other photographs show the prince's coffin being carried in to the official residence by black-suited pallbearers. The family looked more cheerful, however, as they looked at the tributes to Henrik, who grew more dear to the Danish public in the later years of his life.
Ad. Article continues below.
Prince Henrik, a Frenchman who married Margrethe in 1967, died at home just hours after leaving hospital to spend his final hours with his family. He had been diagnosed with dementia late in 2017 and was hospitalised in January with a lung infection, causing Prince Frederik to rush home from the Winter Olympics to Korea to be by his side.
He will not have a state funeral, but will instead by cremated and his ashes spread. Nor will he join Margrethe in a sarcophagus already prepared for them, having said last year that he did not want to be buried with his wife, having never been recognised as her equal.
Ad. Article continues below.
The prince had long chafed under his 'lower status' role – like most monarchies, the Danish royal family does not elevate male consorts to the monarch to the title of king, and after Margrethe ascended the throne in 1972, he remained a prince – and in 2002 left Denmark for France, saying he didn't receive enough respect in his adopted home country. He had commented publicly that he was treated in Denmark like a "little dog that follows behind and gets a sugar cube once in a while", and only after more than 25 year of marriage stood in for his wife at an official event.
But the prince, once considered slightly embarrassing by Danes, who tend to value constraint and humility, won over a younger generation that was more open to his flamboyant nature – he was a cook and poet who enjoyed wine and music – and he made appearances at festivals and charity events, where he was more celebrated for his unique style.
Do you remember the sea of flowers left for Princess Diana?