'Letting us all down': Prince Harry flouts rules at important event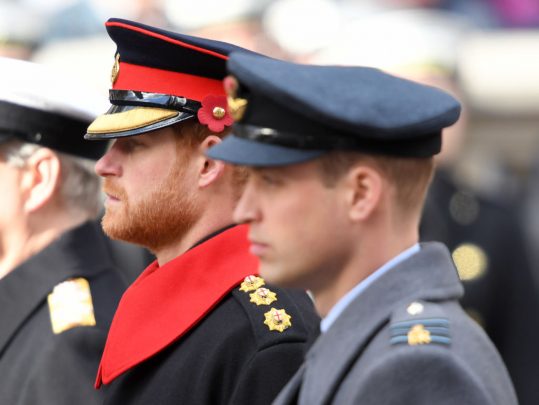 Prince Harry has long been an advocate for veterans and servicemen, and his Invictus Games initiative is a testament to that fact. However, his appearance at a Remembrance Day event has caused some servicemen to speak ill of the young royal and accuse him of blatant disrespect. 
The National Remembrance Sunday service at the Cenotaph, an iconic war memorial in London, saw Harry step out in full military uniform, with the addition of a neatly-trimmed beard—something that is apparently expressly forbidden for the British Army.
According to reports in the UK media, the British Army only allows beards in certain circumstances, such as when shaving would conflict with a soldier's religion, when they are suffering from a skin complaint, or when they are special forces behind enemy lines. Those who can do so are required to shave their beards when appearing on parade. 
"Prince Harry is letting us all down. There's no place for beards in the Queen's cavalry. He should have shaved it off for such an important day," a serving member of the cavalry regiment said in a Metro article. 
Read more: Prince Harry and William skip solemn event for sporting duties
Ad. Article continues below.
Photos of the prince in his military uniform were posted to social media. 
"The Duke of Cambridge, Prince Harry and The Duke of York, all who served in the military, also laid wreaths at today's [National Remembrance Sunday] service," a caption on the official Instagram of the royal family reads. 
"The Memorial commemorates those who have given their lives in service to King and Country since 1914. Five life sized bronze soldiers stand easy against a stone cenotaph, each representing one of the Guards' Regiments."
Ad. Article continues below.
Read more: Prince Harry admits the 'downside' to dating a gorgeous TV star
While some members of the Queen's cavalry may have been affronted by the sight of their prince sporting his usual facial hair, a Ministry of Defense spokesperson said there was nothing wrong with his appearance.
Harry may have to keep donning the uniform for special occasions, but he doesn't have to comply with the strict regulations as he left military service in 2015. 
Do you think Prince Harry should have shaved off his beard for the event?