'Kill Prince George': The chilling threat made against adorable royal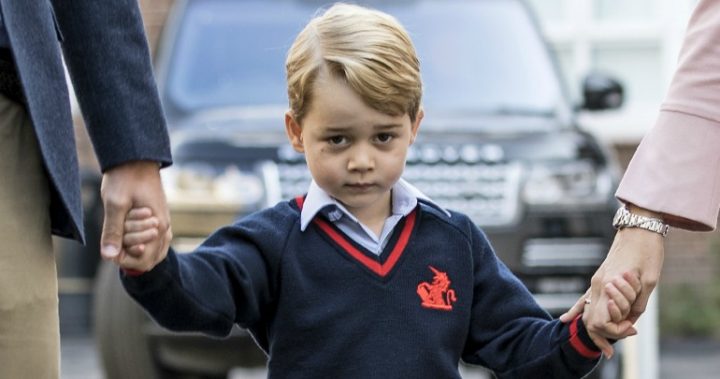 He may be four years old, but that hasn't stopped ISIS extremists from targeting Prince George in their sickening plots.
Back in October, it was revealed the terrorist organisation threatened to attack the young royal at school.
Sent through an encrypted messaging app, the threat suggested that Thomas's Battersea School, which George attends, would be targeted in an attack.
The Telegraph has now released more details of the frightening message.
Believed to have been sent through an app known as Telegram, Westminster magistrates' court heard of how 31-year-old Husnain Rashid posted a picture of Prince George and suggested that his primary school be targeted.
Ad. Article continues below.
Prosecutor Rebecca Mundy alleged Rashid said that "even the Royal Family will not be left alone" and that he also intended to travel to Syria to fight.
"It is alleged this defendant has set up a number of channels on which he broadcasts material to assist terrorists," the Telegraph reports Mundy saying.
Read more: Woman arrested after break in at Prince George's school
"A post, which we in this country will find particularly worrying, was a photograph of the young Prince George at the beginning of his school term, next to a silhouette of a jihadi fighter.
"Next to that was a caption, 'school starts early'. It provides an address in Battersea for a school to which the young Prince attends."
Ad. Article continues below.
The web designer is facing a variety of charges including preparing acts of terrorism and assisting others to do the same.
In addition to Prince George and the school, Rashid is also alleged to have called for other iconic London landmarks and popular sporting venues to be attacked.
Read more: Isis threatens to attack Prince George at school
Ad. Article continues below.
To complicate things, the messages became encrypted, meaning it was extremely difficult to determine what was actually sent.
In addition to the threats against the Royals, the court is also hearing a separate case of terror suspects who were accused of plotting to blow up the British prime minister Theresa May.
The UK has already experienced a number of deadly attacks this year including a suicide bombing at an Ariana Grande concert in Manchester, a group of terrorists who stabbed to death victims at London's famous Borough Markets and terrorists who ploughed into crowds near the Houses of Parliament. 
Should the royals be off limits when it comes to terror attacks?