Jolly Camilla shows off her nifty footwork in waltz with dance pros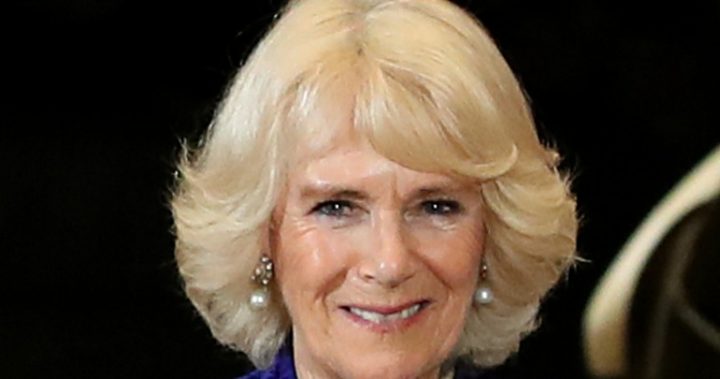 The Duchess of Cornwall always seems up for a laugh, even in front of the cameras, and she proved it again, throwing caution to the wind for a waltz with a pair of dance pros in front of plenty of watchful eyes.
While many people would be worried about putting a foot wrong, or several, when dancing with well-known champion dancer Brendan Cole, who long dominated Britain's hit Strictly Come Dancing TV series, and the show's judge Craig Revel Horwood, Camilla no doubt has plenty of experience herself when it comes to formal dance moves.
The royal looked elegant but understated in a navy  blue frock with embellished neckline and sleeves, and fortunately, a pair of sensible black court shoes, as she danced with the pair.
She glammed up her outfit with a big, triple-strand pearl choker with a diamond and sapphire centrepiece, her hair in its usual soft waves.
Ad. Article continues below.
Cole praised the 70-year-old's light feet, saying to the Daily Mail that "she knows her way around a dance floor, don't you worry about that".
He admitted, though, that the dance was definitely unplanned.
"I didn't know if I was breaking protocol or not but I did ask her first if it was okay to dance, and she said 'I'd love to'," he revealed.
The duchess was the host of the tea party at Buckingham Palace for the National Osteoporosis Society, which encourages older people to stay active in order to keep their muscles strong.
Stronger muscles in the later years of life dramatically reduce the risk of life-changing falls.
Do you still dance regularly? Do you find it's a good way of keeping active? What's your favourite type of dancing?