It's Meghan mania as Prince Harry's gorgeous fiancee turns on the charm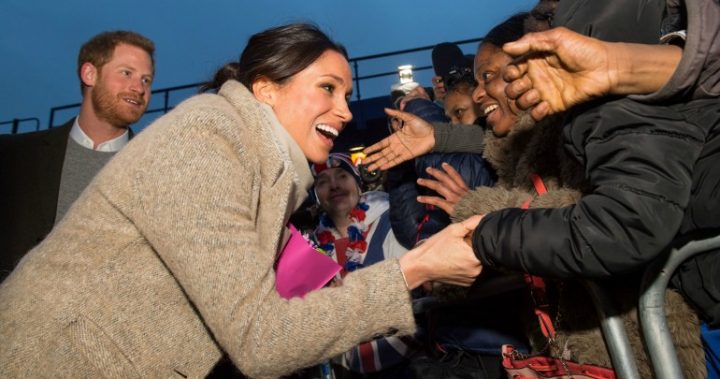 Prince Harry's fiancee Meghan Markle showed again she's got the got the skills to charm the crowds, greeting throngs of excited well-wishers on her second official engagement with the young prince in London with plenty of natural warmth and apparent ease at being the centre of attention.
The couple visited Reprezent FM, a community radio station for young people in one of the capital's tougher suburbs, where Meghan wore a huge smile as she chatted to onlookers and even gave one a cuddle.
Helen Wiltshire, 69, clasped arms with Meghan, telling the American that she "loved her", according to reports. Afterwards, she told the Daily Mail of Prince Harry and his fiance, "you can feel their love, I wish them all the best".
Ad. Article continues below.
The prince was certainly happy to reveal the tone that'd already been set for their relationship. Asked something by one of the radio station managers, he quickly pointed to Meghan and joked, "She answers the questions!".
Meghan had obviously also listened to some of the criticism over her choice of a £56,000 (US$75,000, A$97,000) couture gown for her engagement portraits, this time opting for a simple black sweater made by British high-street favourite Marks & Spencer, that retails for a more modest £45. She wore it with wide-legged black trousers and topped her outfit with a £600 designer coat in a tasteful taupe.
The actress has some of the small details of being a royal to learn, though, with her 'messy' up-do quickly becoming messier than she likely intended – unlike the sleek helmets of hair more experienced royals favour for hectic public events.
Ad. Article continues below.
Not that the crowd was particularly interested in the soon-to-be-royal's appearance – they just loved her, with some American tourists even turning up to get a glimpse of their countrywoman. As the crowd screamed and cheered, Harry encouraged Meghan to blow a kiss to onlookers, which she did, prompting even louder cheers.
In an Instagram post, Kensington Palace, which updates on Prince Harry, Prince William and the Duchess of Cambridge's activities, said that the Reprezent radio station helped young people develop important skills. 
"Training hundreds of young people every year to develop useful skills and help progress to further education and employment opportunities, over 4,000 young people have been through the Reprezent programme," the palace said.
The couple met current and former volunteers at the station, which was set up in 2008 to help combat arise in knife crime in the area.
Do you think Meghan Markle is shaping up to be a good representative of the royal family?