'It takes getting used to': Prince Harry opens up on royal life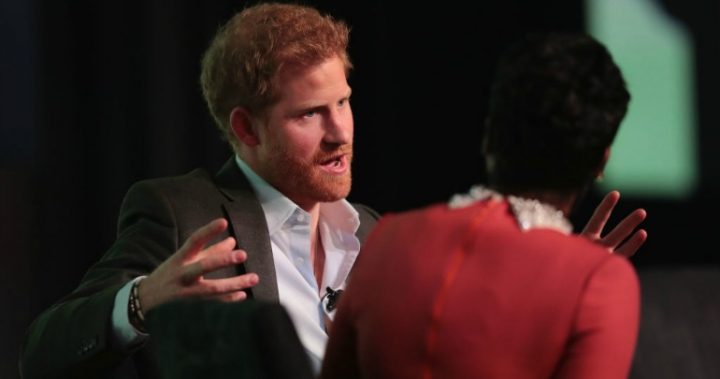 Living life as a royal isn't always easy and no one knows that better than Prince Harry.
The beloved prince opened up about his life of privilege and the responsibility that comes with it at the Obama Foundation summit in Chicago on Tuesday, where he was a guest panellist.
Harry said told panel host Mellody Hobson he was scarred by the media's treatment of his mother, but has learned that giving back is the best way forward.
"I think what happened to my mum probably put me a step back, thinking, how could someone who did so much for the world and did so much for everyone else be treated like that by a certain institution?" he told the audience.
"It takes a bit of getting used to, but once you understand the privileged position that you're in, you go to spend the rest of your life giving back, and gaining the trust and respect of the general public."
Ad. Article continues below.
The discussion was livestreamed around the world on Facebook and drew thousands of viewers and comments.
He said that after years of struggling he had accepted his role in the public eye and now understood what an advantage that could be.
"Because of the position that we're in … you're not in it for four years, eight years — you're in it for life," he said.
"Therefore everything we can do, we have a bigger, longer platform than politicians."
This means choosing the right charities to get involved with.
Ad. Article continues below.
"In today's world, you have to be involved with things that make sense to where your passions lie, rather than show up to a charity once a year," he said. "I don't think that's beneficial to anybody."
It's not the first time Harry has spoken about his difficult path through royal life.
In June he told Newsweek no one in the royal family wanted to be king or queen, but they would "carry out our duties at the right time".
The 33-year-old prince also called his mother his "ideal role model" and said she changed the world for the better.
"In society we suffer from this illusion, or reality, that some problems become so big that nobody wants to get involved," he said.
Ad. Article continues below.
"She was the one that changed that. I will always look up to her … everything she did and the way she did it was having an impact, making a difference."
Read more: BFFs Michelle Obama and Prince Harry reunite for surprise event
What are your thoughts on this? Do you think Harry has done the royals proud considering the difficulties he's faced along the way?
Read more: Prince Harry sneaks a cheeky kiss from Meghan Markle