'I'm nervous about this': Prince Harry cheekily interviews Obama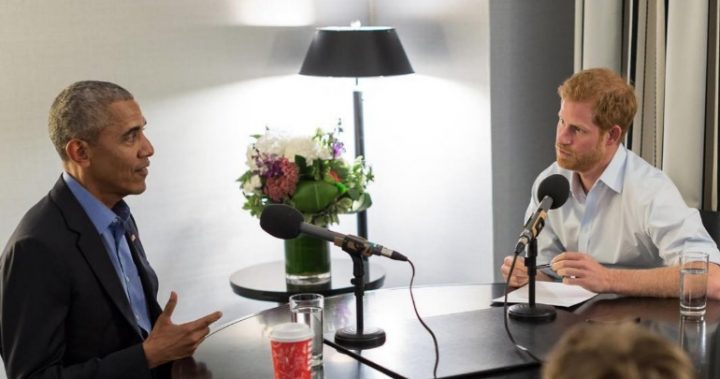 He's used to public speaking but that doesn't mean that Prince Harry doesn't get nervous like everyone else.
In a new video released by the official Kensington Royal Instagram page, the 33-year-old sits down for an interview with former US president Barack Obama.
The full interview is expected to be released in the UK on BBC Radio 4 on December 27, but a sneak-peak of Harry gearing up to speak with Obama has been released online.
The usually-confident Harry looks slightly intimidated in the clip.
Ad. Article continues below.
In the video, Obama can be seen asking the soon-to-be-married royal if he needs him to speak faster and if he needs to speak in a British accent.
Read more: Prince Harry and Meghan Markle announce wedding date
Prince Harry joked that there would be problems if Obama started using long pauses between his answers and hinted that he'd get a death stare if that was the case.
"I don't want to see that face," Obama joked as he laughed with the soon-to-be-married royal.
Prince Harry then asked his guest if he was excited, before revealing his own nerves.
Ad. Article continues below.
"You're excited about this, I'm nervous about this, actually," he confessed.
Obama then offered to interview Harry if it made him feel more comfortable.
Ad. Article continues below.
"No, No," he replied. "Let's keep it this way, I'd much prefer that."
Kensington Palace released some further information about the interview.
Read more: All the superstar singers vying to perform at Prince Harry's wedding
"Prince Harry will guest edit @bbcnews Radio 4's Today programme on 27 December," they wrote on Instagram.
"The programme will feature an interview with former US President @barackobama and focuses on their shared interest in building platforms for the next generation of young leaders.
Ad. Article continues below.
"The conversation includes President Obama's memories of the day he left office and his hopes for his post-presidential life, including his plans to focus on cultivating the next generation of leadership through the @obamafoundation."
Although the snippet didn't give anything away, fans were quick to share their excitement about the interview online.
One person wrote: "I love this so freaking much. I miss him."
Another fan said: "My heart is happy and peaceful when two men like this are working together."
A third comment read: "My 2 favorite guys! It's hard to explain just how much miss Obama. Just hearing him talk gives me peace and calmness."
What do you think? Is this an interview you'd like to hear in full?