'I'll be dead by then': Queen and Attenborough share a chuckle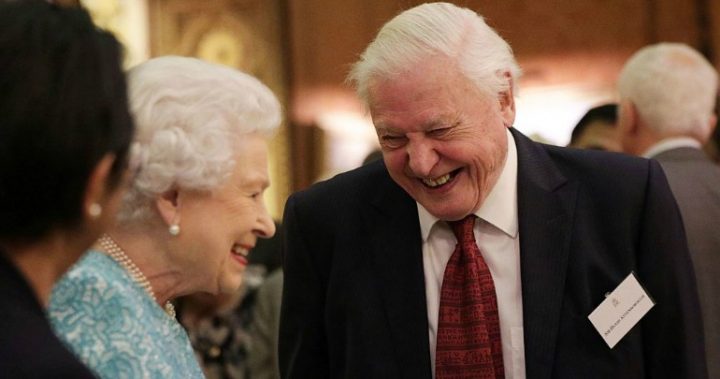 The Queen has teamed up with veteran television presenter Sir David Attenborough for an upcoming documentary on the Queen's Commonwealth Canopy project, which strives to create forest conservation programs throughout Commonwealth countries. A segment with Britain's monarch and Attenborough was filmed in the gardens of Buckingham Palace over the summer, and the pair enjoyed joking about what the foliage might look like in the years to come. 
"I suppose, actually, the trees with which you will be presented are going to change as our climate changes and there will be all kinds of different trees growing here in another 50 years' time," Attenborough says in the video, according to The Sunday Post. 
"It might easily be, yes," the Queen says. "I won't be here though."
The two 91-year-olds had a bit of a laugh, acknowledging that neither will be around forever. They also agreed that things had changed remarkably over the course of their lifetimes. 
"Was it recently that someone tried to stop children playing conkers?" the Queen asked of Attenborough as they approached a chestnut tree. The two agreed that it was probably on the grounds of health and safety that the childhood game of knocking conkers out of someone else's hand was stopped. 
Ad. Article continues below.
"You'll think that people will stop people breathing," Attenborough quips. 
The documentary will air on ITV in the UK in 2018. 
The Queen has also delighted audiences with another video, this time at the British Museum, where she donned a magenta outfit to reopen the Sir Joseph Hotung Gallery. 
"Today The Queen toured the refurbished Sir Joseph Hotung Gallery at the British Museum 25 years after she first opened it in 1992. This gallery tells the stories of China and South Asia from 5000BC to the present day," the official Instagram account of the British royal family captioned a series of images.
Ad. Article continues below.
In a follow-up video, the Queen can be seen struggling a bit as she releases a cloth covering that will unveil the refurbishment. As the cloth frees itself and falls away quickly, the Queen jumps back with a start, before smiling and laughing delightedly at the display. 
Followers of the Instagram account were quick to point out the reaction, saying how sweet and cute the monarch looked as the cloth fell away. 
Ad. Article continues below.
"Such a beautiful lady. Love to see her smiling!" one comment reads. 
"What a fabulous expression!" another wrote.