Glowing Kate Middleton admits struggles of leaving George at school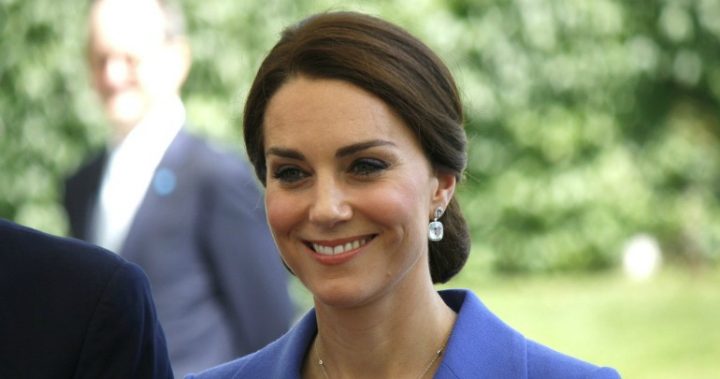 She wasn't well enough to see Prince George off for his first day of school, but Kate Middleton says she's finally had the chance to take her little boy to school.
As you will recall, the Duchess of Cambridge was noticeably absent when her four-year-old son made his first steps through the school gates.
Pregnant with her third child, Kate was suffering from Hyperemesis Gravidarum, a severe form of morning sickness at the time.
Ad. Article continues below.
Sadly, she has suffered this for all her pregnancies and had to cancel all official engagements.
Read more: Prince George arrives at first day of school, hand in hand with dad
It looks like Catherine is well on to her way to recovery as she made an appearance at the opening of the annual School Leaders forum in London.
The event was hosted Place-To-Be, a charity that addresses mental-health issues in children.
Ad. Article continues below.
The 35-year-old was one of the key speakers at the event, and spoke of her own struggles when it came to saying goodbye to Prince George each morning.
Now To Love reports the royal telling the audience: "As a mother just getting used to leaving my own child at the school gates, it is clear to me that it takes a whole community to help raise a child.
"Whether we are school leaders, teachers, support staff or parents – we're all in this together. We are all working to give children the emotional strength they need to face their futures and thrive."
Ad. Article continues below.
As well as her speech, all eyes were on Kate as she made one of her first appearances with her baby-bump.
She opted for a powerful plum dress by Goat for the important occasion.
The duchess wore her hair down and opted for a simple pair of black stockings for the event.
She wore a sensible pair of black heels and topped off her look with a poppy for Remembrance Day.
Ad. Article continues below.
Her visit came not long after ISIS threatened to attack the four-year-old at school.
Read more: ISIS threatens to attack Prince George at school
Speaking to the crowd, the mum added: "Collaborating with experts like yourselves, we're looking at providing easy access to information and practical tools to support teachers, parents and children feel comfortable talking about their mental health."
It's good to see Kate back out and about.
Can you relate to Duchess Catherine? What was it like leaving your child at school for the first time?