Glowing Catherine reveals a tiny baby bump, and a guilty little admission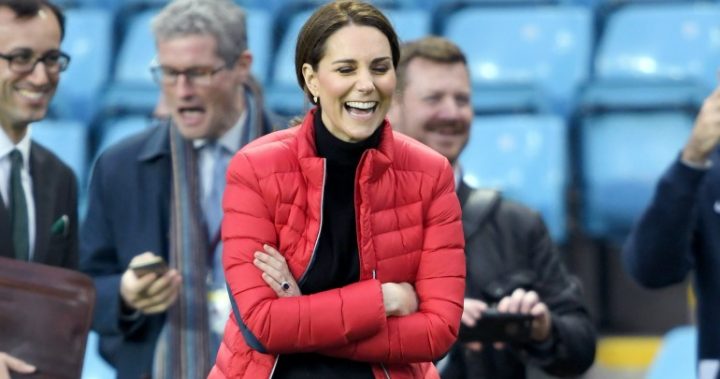 Gone are the days when pregnancy meant taking it easy, with nothing arduous on the menu.
The Duchess of Cambridge is now clearly over her bout of serious morning sickness, and was looking overjoyed to be on the field at the Aston Villa football club in Birmingham to watch children training.
It was part of an active morning for the young royal – before heading to the soccer pitch, she'd been off-road driving with Prince William at the Land Rover factory in nearby Soliull, where they got stuck half-way round a tricky course.
Wearing a casual puffer jacket and thin sweater over black jeans, with a pair of trainers – she wore the same jeans but with a dressy coat and knee-high black boots to visit Land Rover earlier – Catherine had a modest baby bump on show for the first time, and was snapped laughing and grinning as she talked to officials and kids at the club.
But she had a bit of a guilty admission to make. Prince William is the president of the Football Association and has visited Aston Villa to watch games before.
Ad. Article continues below.
The club's CEO Keith Wyness reportedly jokingly greeted Catherine back with the words "welcome back to the home of one of your husband's other passions".
A smiling duchess agreed with Wyness that the prince had been looking forward to the visit, prompting William to joke that "it'll be interesting to see if she's been listening to any of my conversations about football".
"I knew I should have!" Catherine laughed back.
Do you listen if your partner's talking about a topic you're not super-interested in? Or have you learned to look like you're listening, while tuning out?