G.I. Charles! Funny photos show prince having a ball with troops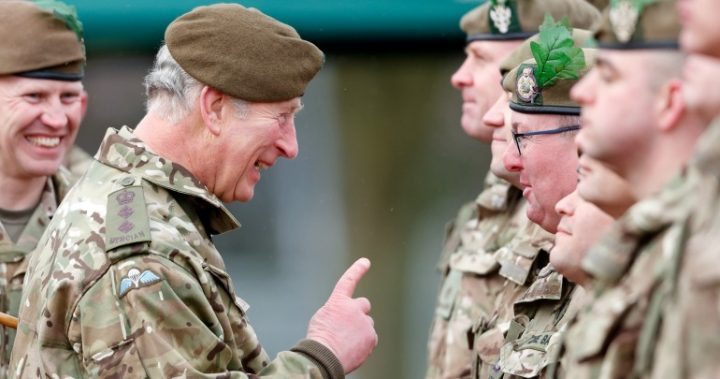 Prince Charles may have the weight of the Monarchy weighing on his shoulders, but it hasn't put a dampener on his jolly demeanour.
The prince visited the 1st Battalion of The Mercian Regiment on Friday, to mark 10 years as Colonel-in-Chief and 40 years since becoming Colonel-in-Chief of The Cheshire Regiment and couldn't help cracking a few jokes to lighten the mood.
Charles handed out medals to soldiers who recently returned from South Sudan and Iraq and was photographed chatting and laughing with the men as he handed out awardsat regiment's barracks at the camp on Salisbury Plain.
Ad. Article continues below.
In a rather hilarious turn of events, he also met the regiment's mascot Private Derby XXXII, who just so happens to be a ram. The 20-month-old Swaledale ram, a new recruit to the Army, stood proudly by his handlers Ram Major, Corporal Philip Thornton and Ram Orderly, Private Lee Bradbury.
Charles, a avid environmentalist and animal lover, couldn't wipe the smile off his face as he bend down to give Private Derby a pat.
Express reports that when Charles asked "does he behave himself reasonably well?" the Ram Major replied: "He's a little bit feisty, sir."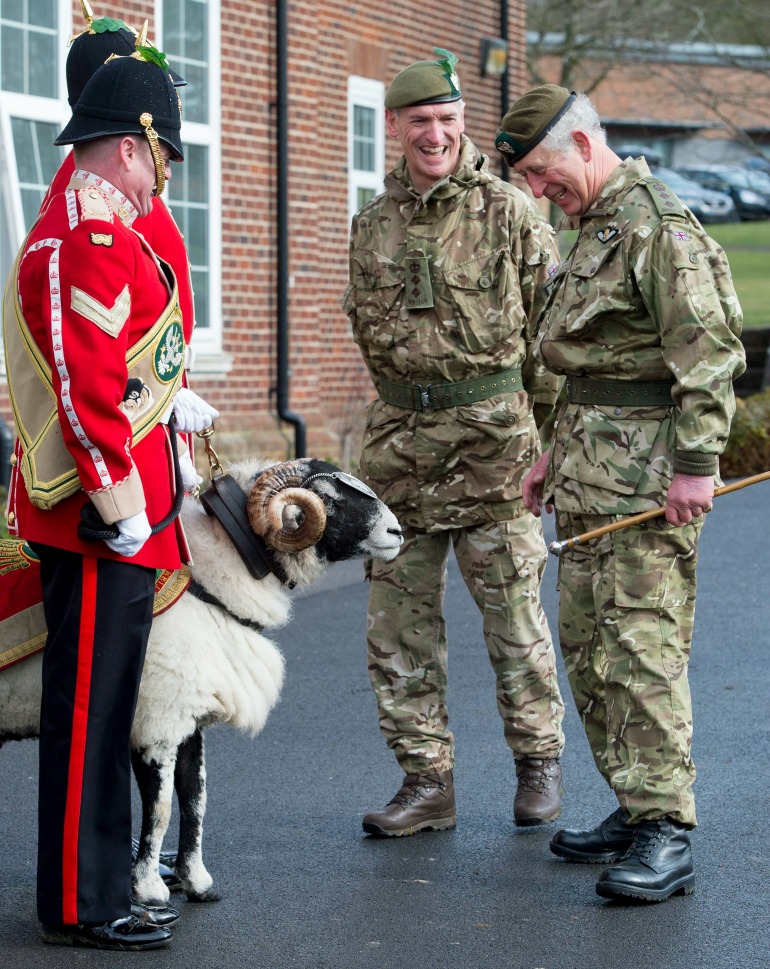 Clarence House shared a photo of the encounter on their Instagram and said: "Private Derby is a Swaledale Ram & the Mercian mascot tradition dates back to 1858.
"In a speech The Prince of Wales told soldiers in The Mercian Regiment: "We owe all of you in the Regiment an enormous debt of gratitude for the service, and often sacrifice that you provide."
Ad. Article continues below.
Charles later appeared thrilled to suit up in and jump into a Warrior Tracked Armoured Vehicle for a training exercise.
The visit finishes with a demonstration of the @MercianRegiment's equipment & capabilities – including a test-ride in a Warrior Tracked Armoured Vehicle! pic.twitter.com/ztVzUaUM7P

— Clarence House (@ClarenceHouse) February 9, 2018
The romp in the mud was a far cry from Charles turn at a reception for the Prince's Trust at Buckingham Palace on Thursday. The future king was surrounded by plenty of glitz and glamour for the evening with stars, including Helen Mirren who hosted the evening, all turning out to show their support.
Ad. Article continues below.
Charles even made mention of the esteemed actress during his speech later in the evening, in which he also made sure to poke fun at himself.
"Each year I think it's got to the last one but somehow you keep coming back despite the rotten speeches from me!" he laughed.
"And your host earlier Dame Helen Mirren who has been a wonderful ambassador for the last 25 years, can you believe it."
The Trust has been running for 42 years and aims to help young people rise out of poverty and deal with social and health issues.
"And whether they face the mental health issues that are so prevalent, homelessness, abuse, bullying of various kinds or indeed imprisonment, they have all shown, without fail, courage and determination to overcome those differences and ultimately take more control of their lives through joining The Trust's programmes," Charles said of the young people who had been aided by the Trust.
"And, as you can imagine, I am equally indebted to all those marvellous staff, volunteers, mentors, all the people who put so much into the whole process of trying to bring people back to their true path in life."
Are you a fan of Prince Charles? Do you think he'll make a good king?