Dr McDreamy in the house! William dons scrubs for hospital visit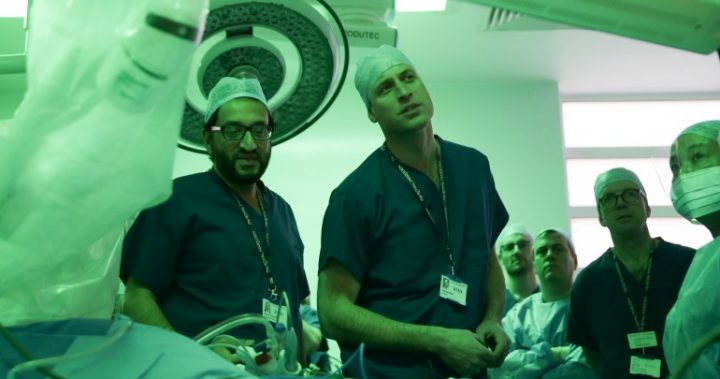 The Duke of Cambridge isn't one to shy away from trying new things and the royal didn't hesitate to strip of his expensive suit and through on a set of scrubs for a hospital tour this week.
Following in his mother's footsteps, the Duke visited the Royal Marsden hospital in London, on Wednesday, where he got a closer look at surgeons using advanced robotic surgical technology called a da Vinci XI robot. 
The prince donned light blue scrubs during his visit to Royal Marsden, a hospital the late Princess Diana worked with as well. Princess Diana acted a patron to the charity from 1989 until her death in 1997. 
William joined Professor Vinidh Paleri and his team in theatre as they performed robotic surgery on a patient. The da Vinci XI robot allows surgeons to cut away the cancerous growths with two handheld controllers that are connected to a 3D monitor, Daily Mail reported. 
Kensington Palace shared several images and videos from William's visit.
Ad. Article continues below.
The Duke joins Professor Vinidh Paleri and his team in theatre as they perform minimally invasive robotic surgery on a patient with adenoid cystic carcinoma. pic.twitter.com/6Gq8dsoPa2

— Kensington Palace (@KensingtonRoyal) January 10, 2018
The Duke watched with fascination as Anne White, 67, had a tumour cut away from her tongue and then later watched another operation, to remove a tumour from the base of 63-year-old Charle's Ludlow's oesophagus. 
William talked about the process with cancer patient, Joe Omar, 63, who is being treated at the hospital, and his wife Lynn, 59 and their daughter Leila, 27. The prince joked with Joe, comparing the Da Vinci machine to a PlayStation. 
Ad. Article continues below.
"It's the same as the PlayStation gear," he said, Daily Mail reported. "You can see all the doctors have done PlayStation. They let me watch but not to have a go." William went on to add how fascinating he found the robot. 
"It's fascinating watching the robot work, it's so precise, you see it up close and you can really see how the human body is and how it works. You're literally going right into the tumour so you see exactly with precision where the tumour is – it's incredible – I was really, really impressed with it." 
This isn't William's first appearance at the hospital, having visited in 2013, to witness a surgery. The prince is following in his mother's footsteps. Princess Diana visited Harefield Hospital in Middlesex in 1996, where she witnessed a heart operation on a young boy from Cameroon.
Prince William was appointed as president of the Royal Marsden Hospital in 2007, a title previously held by his mother. The Duke later joined staff, volunteers, and supporters of Campaign Against Living Miserably (CALM), a charity dedicated to preventing male suicide, to show his support. 
 Do you think Princess Diana would be proud? Do you think William looks good in scrubs?