Cute little George and Charlotte steal show in gorgeous royal Xmas snap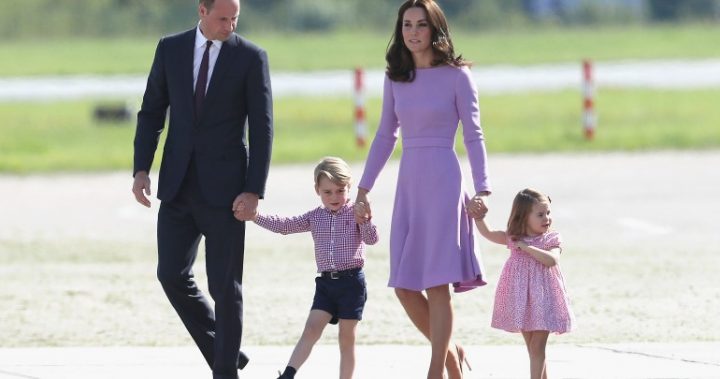 Kids will be kids!
The Duke and Duchess of Cambridge got Prince George and Princess Charlotte all dressed up in their cutest outfits for this year's family portrait, but four-year-olds and two-year-olds can never quite be trusted to perform as expected – as anyone who's ever taken a child for a snap with Santa knows! 
The royal couple revealed the portrait on their 2017 Christmas card, complete with Charlotte leaning forward into the camera with a cheeky look on her face, while George has his foot raised, ready to scarper from the scene at the first opportunity, with only his dad's hands on his shoulders keeping him in place.
The picture is more formal than the candid snaps they've used on their festive cards in previous years – Catherine herself is often the photographer – and despite the youngster's antics, the family looks gorgeous in blue tones, right down to the little princess's bright blue mary-jane shoes.
Ad. Article continues below.
Canny Catherine recycled a powder-blue dress by designer Catherine Walker that the she first wore to the Netherlands in October 2016, according to the Guardian.
As the newspaper pointed out, the formal photo, if in black and white, would look like a post-war photo from the 1950s, given the family's buttoned-up attire.
The royal couple also revealed that Princess Charlotte would go to nursery for the first time in January. The princess will attend Willcocks Nursery School in London, which has an all-female staff and prides itself on "high standards and good manners".
Prince George goes to reception classes as Thomas' in London's Battersea, though William admitted recently that his son didn't always want to go the school.
Ad. Article continues below.
The photo on the Christmas card was taken earlier in the year by Chris Jackson, the royal photographer for storied photo agency Getty Images, who also took Prince George's fourth birthday photo in July. In fact, it was likely taken on the same day, since the little prince is wearing the same outfit.
Jackson himself was delighted, noting on Instagram that the couple had chosen his portrait for their Christmas card image, and adding "Merry Christmas!" 
What do you think of the family portrait? Have you ever managed to get children to behave well for a serious portrait?