Royal family adds extra glamour to Nobel Prize event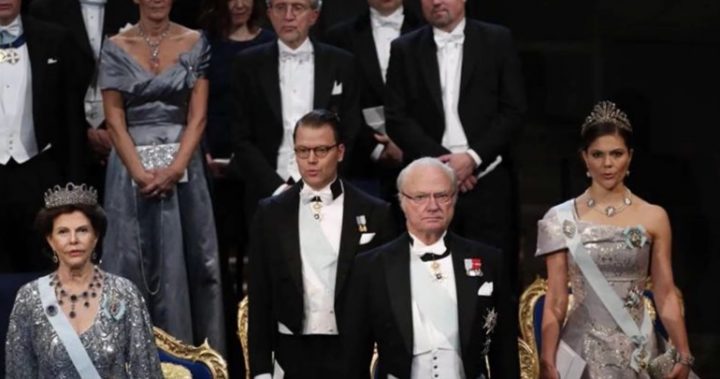 Many of us wouldn't associate the Nobel Prize with glitz and glamour.
And that's probably because the awards themselves aren't about fame or glory.
But the gala ceremony in Stockholm each year is a very glamorous event – and once again the Swedish royal family have added to the glamour.
The royals donned ballgowns and tiaras for the special event, joining in the celebrations.
Read more: Princess Sofia looks great at her son's christening
Ad. Article continues below.
Princess Sofia wore an emerald green gown, along with a white sash and a pair of glittery silver heels.
Her sister-in-law Princess Madeleine wore a pink gown, which had a long sleeve satin top and an embellished skirt.
Ad. Article continues below.
Crown Princes Victoria dazzled in a long, silver ballgown with detailed decorations, while Queen Silvia sparkled in a glittery silver sequin dress.
Okay, so the royals look great.
Ad. Article continues below.
But, what about the awards themselves?
Well, this years awards have been dominated by Bob Dylan – who was named the winner of the literature prize.
As you may have read, he was unable to attend.
So his friend American rock star Patti Smith attended in his place.
Read more: Bob Dylan answers the question of whether he'll accept his Nobel prize in person
Ad. Article continues below.
She performed a song you might remember of his, A Hard Rain's A-Gonna Fall'.
It was a big moment for Patti and unfortunately she was a little nervous.
The Daily Mail reports that halfway through her performance she forgot some of the words.
"I'm sorry, I'm so nervous," she told the crowd, before asking Sweden's King Karl Gustav if she could start the song over again.
Other awards presented on the night  included the Nobel Peace Prize, won by Colombian President Juan Manuel Santos, the medicine prize won by Japan's Yoshinori Ohsumi and the economics prize won by Finland's Bengt Holmstrom and British-American Oliver Hart.
It looks like a great night!  It's a shame Bob Dylan wasn't there!
What do you think about the Swedish royal family?