Roger Federer wins the Australian Open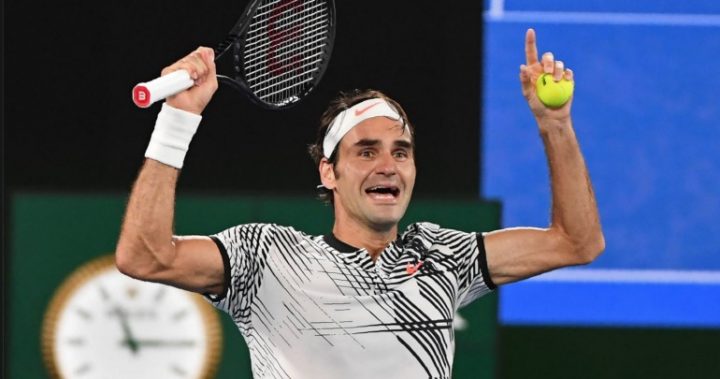 After a truely epic battle on court, Roger Federer has proved once again why he is considered one of the greatest tennis players of all time.
The 35-year-old took out the Australian Open last night against one of his greatest rivals and friends, Rafael Nadal, to become a champion once more.
The amazing five set match was basically a showcase of the best tennis has to offer with the two men fighting back from injuries over the last year to battle it out in the final.
In the end, Federer was just too good and took out the match on a line call challenge that showed the ball had landed only millimetres inside the line.
The final result was 6-4 3-6 6-1 3-6 6-3, and although he was clearly bitterly disappointed, it was Rafa's behaviour after the match that made people fall in love with him all over again.
Ad. Article continues below.
In a true act of sportsmanship, Rafa praised his idol and mate Roger and said he was grateful and in awe that they got to play the final together once more.
"Today (it) was a great match, probably Roger deserved it a bit more than me," he said.
"Congrats to Roger and to all his team.
Ad. Article continues below.
"It's just amazing the way that he's playing after such a long time without being on the tour and that's just very difficult what happened.
"You have been working a lot to make that happen, so well done. I feel very happy for you."
Roger quickly returned the favour, praising Rafa for his strength and commitment and their comments quickly got people talking about how much they would miss the pair's amazing attitudes and respect towards sportsmanship when they finally retire.
"I don't think we both – either one of us – believed we would be in the finals in Australia when we saw each other at your academy sort of four, five months ago," he said.
Ad. Article continues below.
"Here we stand in the finals. I'm happy for you. I would have been happy to lose too, to be honest. A comeback was perfect as it was.
"Tennis is a tough sport. There's no draws but, if there was going to be one, I would have been very happy to accept a draw tonight and share it with Rafa, really."
The win marks Roger's 18 Grand Slam victory and makes him the first man in history to win 5 or more titles at 3 different Grand Slams.
Did you watch last night? Will you miss these two when they retire?