Robert De Niro gets heated with Arnold Schwarzenegger over Trump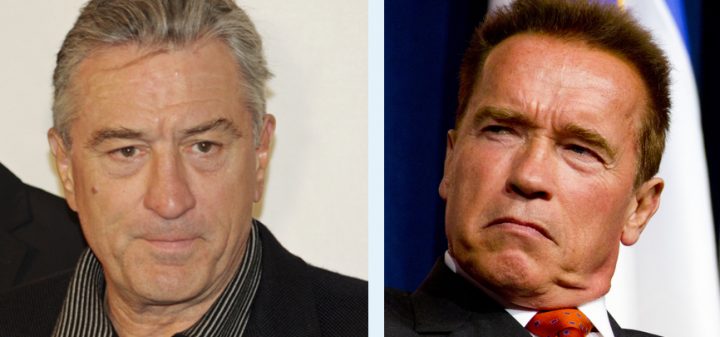 There are not many people on the planet that would have the guts to embarrass Arnold Schwarzenegger in front of hundreds of people. However, if you were to find out that it was Robert De Niro than it might make a little bit more sense.
Ad. Article continues below.
The situation got heated between the two icons of Hollywood at a VIP cocktail reception in Los Angeles. Schwarzenegger asked De Niro for a photo together to which De Niro replied: "If you're supporting Trump, I want nothing to do with you".
Schwarzenegger, who is a registered Republican, had stated that he couldn't support Trump. The action movie star took to Twitter in October and stated: "For the first time since I became a citizen in 1983, I will not vote for the Republican candidate for president,". He continued "But as proud as I am to label myself a Republican, there is one label that I hold above all else – American". Schwarzenegger concluded with "So I want to take a moment today to remind my fellow Republicans that it is not only acceptable to choose your country over your party – it is your duty."
De Niro, who famously made a video not long ago about wanting to punch Trump in the face kept asking Schwarzenegger over and over again "Are you voting for Trump?" De Niro's parting words to The Terminator star was "If you're not part of the solution, then you're part of the problem".
De Niro might mistake Schwarzenegger for being friendly with Trump as Schwarzenegger takes over the role as boss on the new season of The Celebrity Apprentice that Donald Trump used to star in.
What do you think about De Niro's actions? Do you think he was out of line or just passionate about the election? Do you think Schwarzenegger showed the class by doing nothing?