Rival players arm-in-arm as the MCG falls silent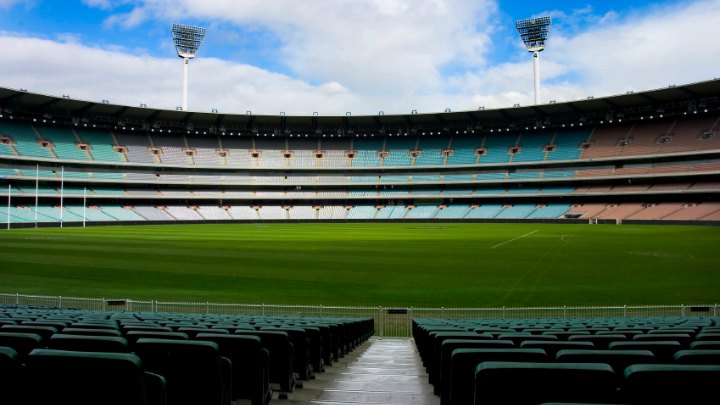 It was a heartbreaking moment of unity after a tough match; rival players forgot their differences and threaded their teams together  to stand, arm-in-arm in support of their fellow players in Adelaide.
The Hawthorn-Collingwood clash started with a minute's silence last night to honour Crows coach Phil Walsh, allegedly murdered by his son less than 24 hours before, and the 750,000-strong crowd fell silent.
But it was the players' gesture at the end of the game that really tugged on the heartstrings. Dirty, bruised and – for the Collingwood players – defeated, both teams set aside their decades-long rivalry and formed a circle to show solidarity with the Crows.
The moving gesture was organised by the coaches; the players weren't aware of the plan.
Ad. Article continues below.
"We said [to the respective captains], at the end of the game, win, lose or draw, let's get together and show even that we'd been fierce warriors playing against each other… we'd come together as one, acknowledge Phil and show the footy world we are going to mourn together," said coach Alastair Clarkson
This echoes the sentiment of the chairman of the Adelaide Crows, Rob Chapman, who yesterday said, "Today, frankly has been all about and is going to be all about wrapping our arms around the Adelaide Football Club community, in particular Meredith, Phil's wife and his family."
Last night, we reported that AFL fans all over the country were putting their scarves out to show their solidarity.
Mr Walsh was only 55 and had just reached the pinnacle of his career as a head coach. It's believed his son, who may have problems with drugs, stabbed him to death in his home in the early hours of Friday morning.
Ad. Article continues below.
Sunday's game between Geelong and the Crows has been cancelled.
Did you see last night's game? Did you find the players' tribute moving?