"Revenge politics" see rooftop solar in firing line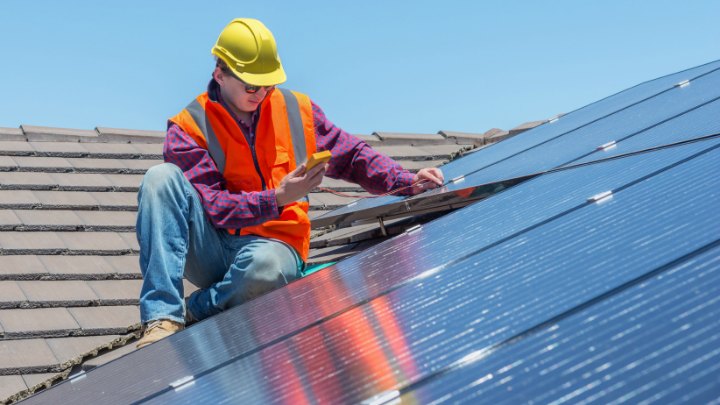 In what's being described as "revenge politics", Tony Abbott has announced further cuts to renewable energy, a move that could cost everyday Australians the ability to produce free energy from the sun.
Speaking from Darwin yesterday, Mr Abbott said the Clean Energy Finance Corporation, which provides loans to the renewable energy sector and which the government plans to close down, would no longer invest in small-scale solar projects, including rooftop solar.
What this means is that if an Australian company wanted to set up a solar-panel manufacturing operation here in Australia, for example, the CEFC is banned from loaning the funds.
Australia currently has one manufacturer of solar panels, the rest are made overseas and imported.
This comes hot on the heels of the directive that the CEFC cannot fund projects involving the second most important source of renewable energy – wind.
Ad. Article continues below.
The only renewable energy projects the CEFC can now fund are large-scale, such as solar farms.
A letter to the CEFC by Treasurer Joe Hockey and Finance Minister Mathias Cormann ordered that direct investments in household and small-scale solar be "excluded" from the $10 billion fund, "including extant wind technology and household and small-scale solar".
There are currently 1.3 million rooftop solar systems in Australia and most received publicly-backed rebates to install their systems.
In recent years, the CEFC has prioritised projects that help people who do not own their own homes connect to solar energy. This includes people who on low incomes, those who live in apartments and community groups.
Mr Abbott said, "This is a government which supports renewables, but obviously we want to support renewables at the same time as reducing the upward pressure on power prices. We want to keep power prices as low as possible, consistent with a strong renewables sector."
Ad. Article continues below.
However, John Grimes, head of the Australian Solar Council, told Guardian Australia, "To say this is about lowering the costs of power is cynical in the extreme. What they're doing with this is the precise opposite."
He said the move was "revenge politics" for the solar industry's successful campaign to keep small-scale solar power in the renewable energy target (RET).
"Tony Abbott is keeping people trapped paying higher electricity prices," Mr Grimes told Fairfax Media.
Shadow environment spokesman Mark Butler said: "These proposed changes go well beyond Tony Abbott's opposition to the aesthetic values of wind farms – it's a wholesale attack on renewable energy.
"Tony Abbott is broadening his assault on renewable energy technologies putting thousands of Australian jobs and billions of dollars in investment at even further risk."
Do you have rooftop solar? Do you think the government is trying to undermine the renewable energy sector?