Revealing image of Hillary Clinton causes a stir across the world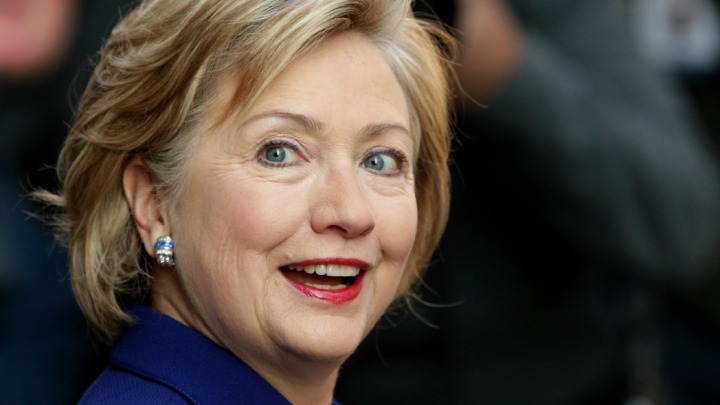 United States' Democratic presidential nominee Hillary Clinton is turning heads for all the wrong reasons today… Well, a mural of her in Melbourne is anyway.
The painting depicts Clinton in a rather revealing 'stars and stripes' swimsuit and has made international headlines with calls for it to be removed because it is offensive.
#Rumourfile: Has @lushsux had his Instagram account deleted over this controversial piece of street art? pic.twitter.com/c7TsmnWSI1

— 3AW Breakfast (@RossAndJohn) July 28, 2016
The artist behind the painting, Lushsux, has painted many murals including one of Republican presidentials candidate Donald Trump and singer Taylor Swift and says that those who want the mural removed are "pathetic". The artist also claims to have been censored on social media after their Instagram account was disabled following news of the Clinton mural.
Ad. Article continues below.
The mural has been painted to the side of a small business in the Melbourne suburb of Footscray and the ABC says the business owner has been asked by the local council to remove the image.
"We believe it is offensive because of the depiction of a near-naked woman, not on the basis of disrespect to Hillary Clinton, in accordance with the Graffiti Prevention Act 2007," Maribyrnong Council CEO Stephen Wall says.
Lushsux accused the council of being out of control, saying the mural was no more offensive than a deodorant ad.
"It's hard enough to be an artist… to lose your social media following in this day and age is a big loss," Lushsux says.
It wouldn't be the first time the artist had shared thoughts on the US presidential campaign. A satirical mural featuring both Clinton and Trump was uploaded to his Instagram account and pokes fun at the race.
Ad. Article continues below.
El IG de @lushsux fue eliminado por dos días en lo que parece un veto con trasfondo político https://t.co/0Qe2IwJDF8 pic.twitter.com/GJw3hBi2Gr

— Central Magazine (@central_zine) July 29, 2016
Should the mural be removed? What sort of art do you enjoy?