Restaurant tells Trump supporters they aren't welcome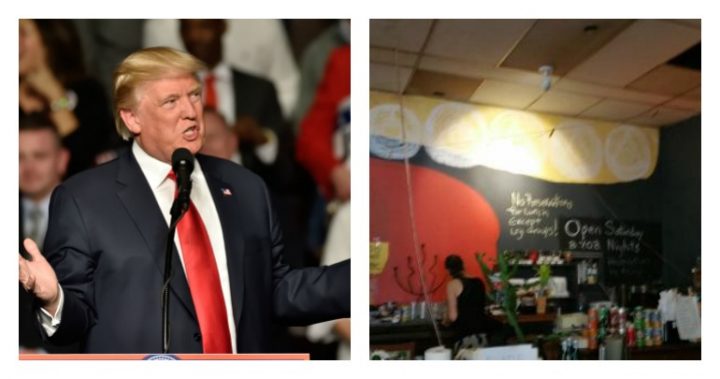 The owner of a cafe in Honolulu, Hawaii certainly stirred things up when he posted a sign banning those who supported United State president-elect Donald Trump from entering his establishment.
Normally Cafe 8 1/2 gets good reviews for its most popular dishes, but when Robert Warner posted his sign advising that Trump supporters were not welcome things got out of control.
'You cannot eat here': Hawaii café riles residents with ban on Trump voters https://t.co/aSA7S4WprB pic.twitter.com/3oXSqYLMvM

— Fox News (@FoxNews) December 27, 2016
"If you voted for Trump you cannot eat here! No Nazis!" his bright yellow, hand-made sign read.
Ad. Article continues below.
It was also posted on the cafe's Facebook page.
While some were quick to support the note, others were not and declared the sign was "in poor taste".
More understanding and tolerance from the #prejuduce #LiberalExtremists at Cafe 8 1/2 in Honolulu #BoycottCafe_81/2
pic.twitter.com/8oBcKqFqHl

— The Bad Guy (@Mad_Deuce) December 28, 2016
No #Jews next? "#Café 8 ½ sign posted onfront glass door: If you voted for #Trump you cannot eat here! No #Nazis"https://t.co/tuqttPYxdM pic.twitter.com/HPGLTFN6qh

— occupycorruptDC (@occupycorruptDC) December 28, 2016
Ad. Article continues below.
"It's childish and very unprofessional," one Donald Trump voter told FoxNews.com in an email. "The restaurant owner doesn't have to worry… I will not be stepping foot in that establishment."
However, those who frequented the establishment on a regular basis said the sign was not to be taken seriously, as did Warner's wife, Jali.
"Robert just wants to express how much he doesn't like [Donald] Trump," she says, admitting that none of the customers were asked how they had voted prior to being served, even if they were wearing a Trump t-shirt. "We don't put anything different [in] your food."
However, the cafe received such backlash — including negative reviews of its food — in response to the sign that it eventually backed down.
Hawaii appeared to throw its support behind Hillary Clinton during the November election, and has historically supported Democrat nominees in local and national campaigns.
Do you think the cafe owner has a right to feature such a sign in their establishment? Share your thoughts with us.