Reports Gable Tostee could make mega bucks by selling his story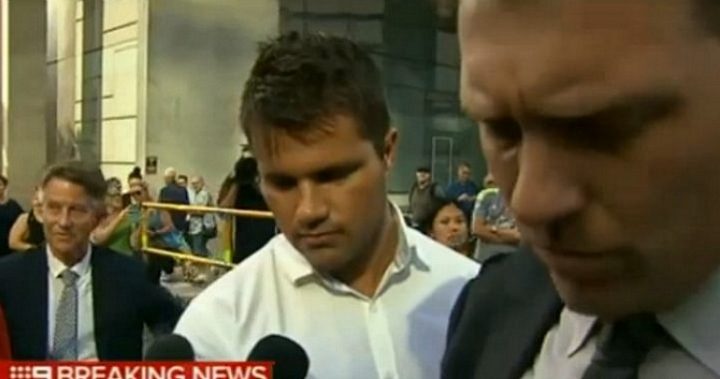 Earlier this week, Gold Coast man Gable Tostee was found not guilty of the murder of Warriena Wright, who fell to her death from his balcony in 2014.
Now, there are reports Tostee could be preparing to sell his story to the highest bidder for a television tell-all.
The trial left many questions unanswered and with such such high public interest in the case, some are speculating that shows such as '60 Minutes' or 'Sunday Night' could offer him big bucks to give them an exclusive interview.
Many are still wondering why Tostee recorded his interaction with Wright and why he left his apartment immediately afterwards to get pizza instead of calling police.
"It's a case that is ripe for current affairs; audio, romance, Tinder, but viewers are mindful that there is a victim at the centre of it all and may take a dim view of anybody seen to be cashing in," David Knox, editor of TV Tonight told News Corp.
Ad. Article continues below.
"A news story as big as this would already be on a news producer's white board and there are now various angles you could build a story around: Gable Tostee, the family of Warriena Wright, or even the impact of social media on the trial."
Another industry source, who chose to remain anonymous, said legally there was no problem with Tostee profiting from the ordeal.
"He's been cleared of any charges, so there's nothing legally wrong with paying him," she said.
Other experts say the public interest is too big for many TV shows to pass up on. 
"Now that the trial is over, there is no obstacle to other information which was blocked from the jury coming out," head of journalism at Curtin University, Joseph Fernandez, told news.com.au
Ad. Article continues below.
"Whenever somebody has a story to tell and is refusing to speak — watching the news as he was walking out, he was very tight-lipped — there is going to be huge interest.
"I wouldn't rule out that anybody with a chequebook would be very interested in talking with Gable about his story."
While it might be legally okay for Tostee to sell his story, the ethical concerns are something else all together.
Some say he has a right to sell his story to help fund getting his life back on track, while others argue it would be morally wrong.
Do you think Gable Tostee should be able to sell his story? Or should he stay quiet?