Remember when Helen Mirren and Michael Parkinson caused a stir?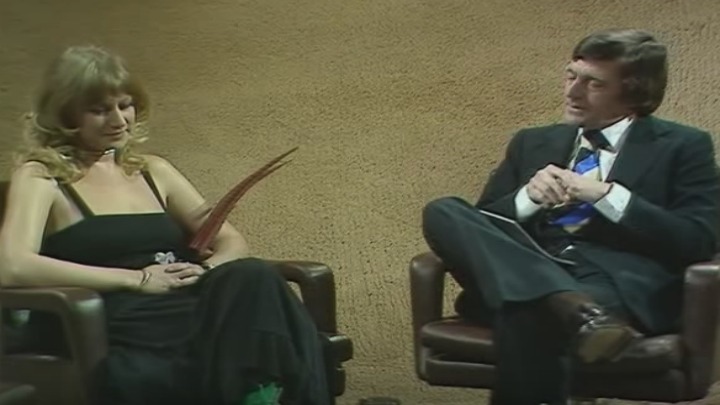 If you ever needed another reason to love Helen Mirren, think back to 1975.
Remember young Helen Mirren, then in her late-20s, sitting down for an interview with great Michael Parkinson?
If you saw it, you'll remember just how shocking it was and just in case you didn't, the 41-year-old interview is making waves for all the wrong reasons on the internet again.
Widely criticised as sexist, the interview started with Parkinson describing the actress as a "sex queen", described by critics as an "amorous boa constrictor" who projects "sluttish eroticism."
But if you thought that was bad enough it, it got far worse.
Ad. Article continues below.
Parkinson then described Helen Mirren as "in quotes, a serious actress…"
The comment sparked anger from the actress.
"What do you mean, in quotes? How dare you," she said.
The topic soon changed to Helen Mirren's physical appearance, with Parkinson asking if her breasts — or as he called it her "equipment" — affected her acting.
Ad. Article continues below.
Keeping her composure, the actress asked the interviewer to explain what he meant by her equipment.
"Come on, spit it out," she said. "Serious actresses can't have big bosoms, is that what you mean?"
As the awkward interview drew on, Helen Mirren turned the tables.
She said she hoped her performance could overcome such a distraction, and took a swipe at Parkinson's "boring questions".
In the wake of the controversial interview, Helen Mirren was commended for how she handled the questions and comments.
Ad. Article continues below.
It took more than 30 years, but in 2006 the pair sat down for an interview and this time Helen Mirren took the reins.
She told Parkinson she 'hated' him after their first interview.
"I thought you were a sexist person for mentioning my breasts," she told him.
But it didn't end there, during an interview in 2010 she described Parkinson as "an extremely creepy interviewer" and admitted she was "far more polite than I should have been".
Do you remember the 1975 interview? Do you think it was sexist?