Reason for Cate Campbell's Rio performance revealed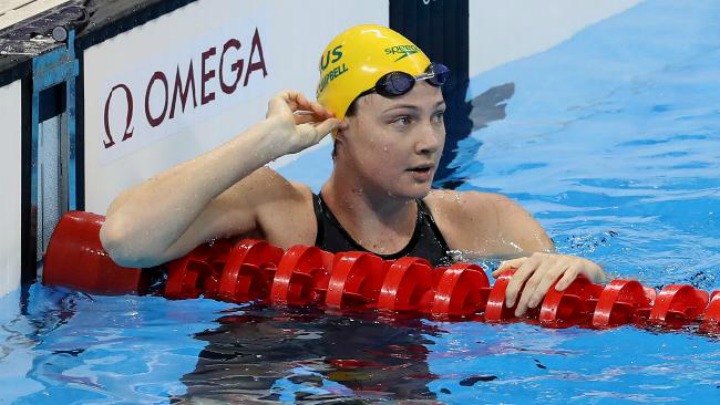 When she wrapped up her Olympics campaign, world 100m freestyle record-holder Cate Campbell had hinted that she may have been injured but refused to elaborate as she did not want to use it as an ­excuse for her underperformance in the 50m and 100m freestyle.
It has now been revealed that she will undergo surgery for a hernia for the second time in 12 months when she returns home from the Rio Olympics.
It was only after she anchored the Australian medley relay team to a silver medal on the last night in the pool that Campbell admitted she had not had a perfect preparation.
"Everyone has injuries and everyone has setbacks and I'm not about to put anything in print right now," she said. "I want my results to stand for themselves and I want to be able to stand and take ­responsibility for my actions. There may be a few things coming out a little later but that is absolutely not relevant at the moment."
She has now confirmed that she developed a hernia three months ago, before she broke the 100m freestyle world record last month.
Ad. Article continues below.
She reiterated that her medical condition did not affect her ­performances in Rio. "I want it to be very clear that I do not make any excuses for my poor performances this past week,'' she said.
After the 100m final Campbell said the uncharacteristic performance was "100 per cent my fault''.
"There is such a thing as wanting it too much and trying too hard,'' she said.
National head coach Jacco Verhaeren also pointed to Cate's relay swims as proof that her physical condition did not prevent her from performing.
Ad. Article continues below.
However, it is difficult to assess whether the physical problem had any impact on her confidence going into the events for which she was a heavy favourite.
Campbell's coach, Simon Cusack, said the hernia was painful but it was not possible for her to have surgery before the Olympics without major disruption to her preparation. Instead, she had elected to swim through it and wait until ­afterwards to have the appropriate treatment.
Cate said she planned to have this second bout of surgery in October, after she returned from her post-Olympic holidays.
Do you think Cate has performed well despite being injured? What would you say to her?