The important opinions that might change your mind on the Adam Goodes racism row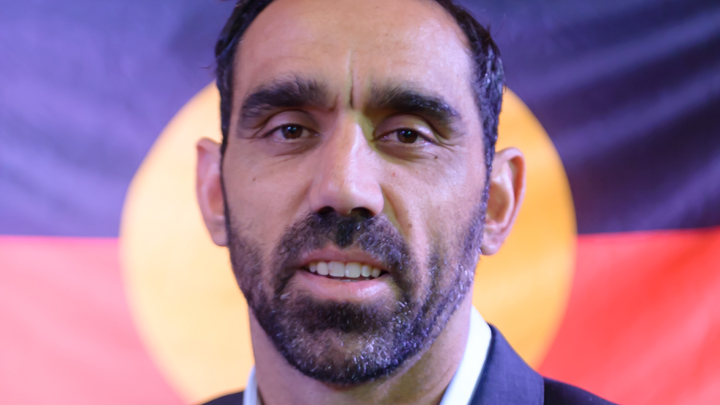 Unless you've been living under a rock, you will no doubt have heard all the opposing opinions on Aussie AFL player Adam Goodes, and whether or not the boos he receives at each game are directed at him because he's Aboriginal, or because people just don't like him.
It's caused heated debate across the country, and has resulted in Adam taking indefinite leave from the game.
But no matter where you stand on the issue, there's no denying that Adam Goodes has been singled out before because of his race. There's also no denying that he has a right to say what he has said.
So today we've decided to look at the most important opinions on the debate. They might just change your perspective.
Ad. Article continues below.
Charlie Pickering
Charlie Pickering, Australian comedian and journalist, is now the host of his own show, The Weekly with Charlie Pickering on the ABC, and he did a fantastic segment on Wednesday night. After seeing what commentators thought of the controversy, he spoke to Tom Gleeson, who said that it was easy to distinguish what the crowd was booing about, whether it was racially motivated, because they just don't like Adam Goodes, or because he stages free kicks. It was amusing to see Charlie confuse each identical boo and guess what it meant – showing that it's not possible for anyone to say what the boos were meant to mean.
This segment was brilliantly done, and you can watch it below.
Ad. Article continues below.
Nigel Scullion
Indigenous Affairs Minister Nigel Scullion has slammed crowds who boo at the Brownlow medalist, whilst acknowledging that not all audience members who boo Adam Goodes are doing it to be intentionally racist. "He is a fine Australian, he's a fine sportsman and to be treated the way he's being treated by crowds, what has he done to deserve that is the question," Scullion said, according to ABC.
Scullion also criticised people who say "I don't like how he plays", remarking that "sorry, just doesn't cut it".
Ad. Article continues below.
Mia Freedman
The Mamamia founder and social commentator has voiced her outraged across her channels, with a particularly poignant piece about the "ugly debate" that has taken shape around Adam Goodes.
She said, "This is a story about racism and bullying and the absolute worst of people trying to hide behind sport as an excuse to be appalling and drive a good man from the field. And then? When they're called out? They blame Adam Goodes. They say his behaviour is what caused people to boo him. Even though there's no other player in AFL history who has had to endure such relentless and persistant booing that he's been forced to stop playing.
Those who claim Adam Goodes is "playing the race card" simply want him to remain passive and silent. They want him to shut up and stop complaining. Stop complaining about being called names. Stop complaining about the problems indigenous people face in Australia. Stop calling out racism and stop fighting back in the face of it.
The "race card" argument is lazy, dismissive and manipulative. It is deceptively powerful in the way it diverts attention from racists and deflects blame onto its victims. Accusing someone of 'playing a card' or urging them to 'stop playing the victim' when they call out racism, sexism or homophobia is aimed purely at gagging victims. It's extreme passive aggression. It seeks to stop people from naming discriminatory behaviour and it's always used by people who know nothing of discrimination".
Ad. Article continues below.
James Packer
The billionaire business says he is backing Adam Goodes with his full support and that Australia needed to hold a referendum to show its commitment to reconciliation.
"To hear people booing him is something that I'm ashamed of as an Australian.
"This issue is above politics and it sits at the core of what Australia was, is, and has the potential to be.
Ad. Article continues below.
"I believe Australia cannot be truly reconciled without recognition of Aboriginal and Torres Strait Islanders at the forefront of this country's public life.
"He's a great Australian. He won Australian of the Year, I think he's an amazing role model.
Mystery ranter
And perhaps the most interesting comments came from an anonymous man on a Facebook page, known only as 'That guy who rants'.
Ad. Article continues below.
His 'rant' on Adam Goodes has now gone viral in Australia, with thousands of shares, likes and comments. You can read it in full here.
He said, "Here we have one of the greatest champions of this quintessentially Australian sport, twice the recipient of its highest honour, and once the recipient of one of the nation's highest honours, being subjected week after week to the hateful heckling of hideous throngs of footy-goers. And why? Well, that depends on whom you ask.
The wrongs that the white Australian has committed to its indigenous ancestors are many and harrowing. Those wrongs are also something that the white Australian public takes great discomfort in acknowledging. And this is where Adam Goodes danced himself into their bad graces.
I've lived in Australia for ten years now as an American expat. One thing I've learned about my adopted home is its problem with racism is similar in many ways to America's problem with guns: it is so endemic and culturally ingrained, that its perpetrators and propagators can't even see that it's a problem. This is the root of the Adam Goodes controversy.
It is a fact that Adam Goodes gets booed horrendously at football games because of his race. It is also a fact that many people out there who boo Adam Goodes are not doing it with the intention of racially vilifying him. While these two facts seem diametrically opposed, they can coexist. However, the people booing at these football games need to understand that, irrespective of their intentions, they are contributing to racial vilification nonetheless.
Ad. Article continues below.
Australia, you have a problem with racism. A big one. And it runs deep. The problem with racists is that they genuinely don't believe themselves to be racists.
Some people may genuinely boo Goodes for reasons other than his race. Some may find it part of the fun of being in the crowd and joining in a movement against a star player of an opposing team. But those people must acknowledge that, regardless of their intent, they are propagating an act that is rooted in the racial vilification of another human being. It's not okay. It's not all in good fun. It's not part of the game. And yes, you are contributing to racism".
Tell us, do you agree with what has been said in these opinion pieces? Why or why not?