Queen Elizabeth can't hold back her laughter as she meets David Attenborough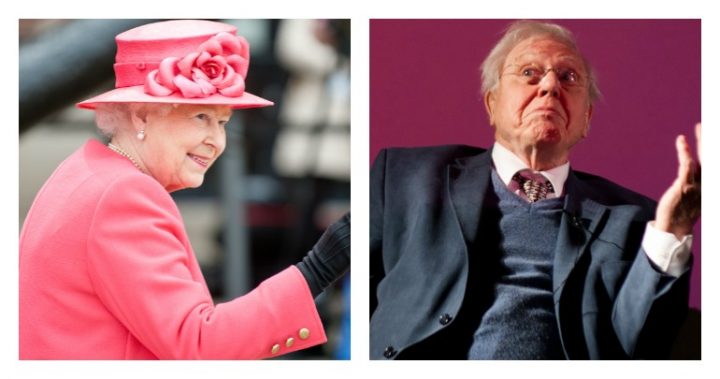 The Queen is well know for her composure and her ability to keep a straight face no matter what the circumstance, but it seems all that goes out the window when Sir David Attenborough is around.
The pair were snapped sharing a big laugh together at Buckingham Palace where they were attending a royal reception to raise awareness for Her Majesty's new project the Queen's Commonwealth Canopy (QCC).
The QCC has garnered a lot of attention due to its ambitious plans to create a global network of protected Commonwealth forests. Understandably, it's an issue close to Sir David's heart as well as the Queen's.
The Queen and David both seemed to be thoroughly enjoying themselves as he told her an animated story complete with funny faces and wild gestures, much to her amusement.
Ad. Article continues below.
Later, gave a speech where he spoke about how important the QCC project is in preserving our beautiful forests.
"A recent Yale University Study estimated that there are now about three trillion trees on Earth but we are removing about 15 billion a year with only five billion being planted back," he said.
"Preserving the world's green corridors, forests, jungles and botanic gardens is the simplest and most effective way to keep breathing life into planet earth.
Ad. Article continues below.
"Over my nine decades, I have witnessed the devastating effect of the destruction of our forests and disregard for the importance of trees.
"I do believe that we have an obligation to nurture and replenish our natural environment for the benefit of our children and grandchildren."
Are you a fan of Sir David Attenborough? Is it nice to see Queen Elizabeth having a good laugh and still enjoying her role after all this time?