Queen confirms referendum on leaving EU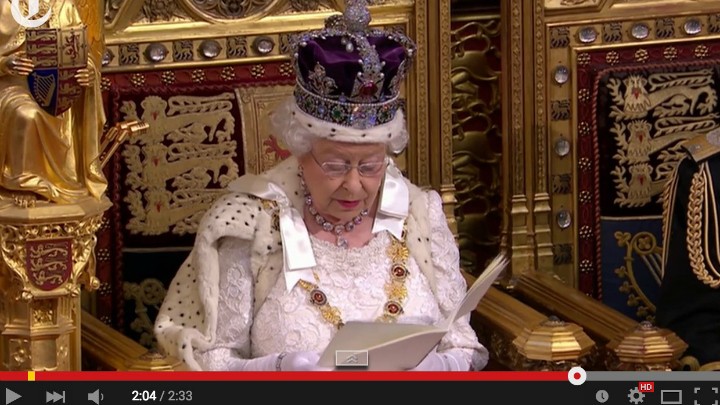 The Queen has set British Prime Minister David Cameron's plans for a referendum on European Union membership in motion as she officially opened the new session of parliament, and it has everyone talking.
Is this the right move for Britons?
Mr Cameron has pledged to reshape ties with Europe giving Brits a vote on whether to stay or leave.
Speaking to a packed House of Lords, the Queen outlined the referendum plans in a speech written for her by Mr Cameron's Conservative government.
"My government will renegotiate the United Kingdom's relationship with the European Union and pursue reform of the European Union for the benefit of all member states," the 89 year-old monarch told an audience made up of politicians and lords clad in crimson robes trimmed with white ermine.
Ad. Article continues below.
"Alongside this, early legislation will be introduced to provide for an in-out referendum on membership of the European Union before the end of 2017".
The law will be introduced into parliament on Thursday as the British Prime Minister begins a European tour to try to sell his European Union reform plans.
Other key legislation announced in the Queen's speech to the parliament includes:
A five-year lock on tax rises including VAT, income tax and national insurance.
No income tax for those working 30 hours a week on the minimum wage.
The extension of right to buy to housing association tenants.
Further Scottish devolution and measures that will give English MPs more say over laws that only affect England.
A counter-extremism bill to tackle radicalisation.
A blanket ban on so-called legal highs.
An increase in free childcare for three- and four-year-olds to 30 hours a week.
Reform of strike laws to require a higher turnout of union members.
Prime Minister David Cameron said his legislative programme would mean "wherever you live, you can have the chance of a good education, a decent job, a home of your own and the peace of mind that comes from being able to raise a family and enjoy a secure retirement".
Ad. Article continues below.
Check out the highlights of the Queen's address to the opening of the British parliament. Is David Cameron right, wanting to give Britons a say on whether to still be part of the European Union?
Queen's Speech: David Cameron announces law to slash Labour's union funding – http://t.co/kW1Cks3JjE: Tel… http://t.co/tF4edA3UCk

— Slash News (@SIashNews) May 27, 2015
Ad. Article continues below.
The Queen confirms British government will hold a referendum on if country should leave the EU http://t.co/8YIILHuN5j pic.twitter.com/4eISiLcFFm

— Sky News Australia (@SkyNewsAust) May 27, 2015