Quantum physicist Michelle Yvonne Simmons named Australian of the Year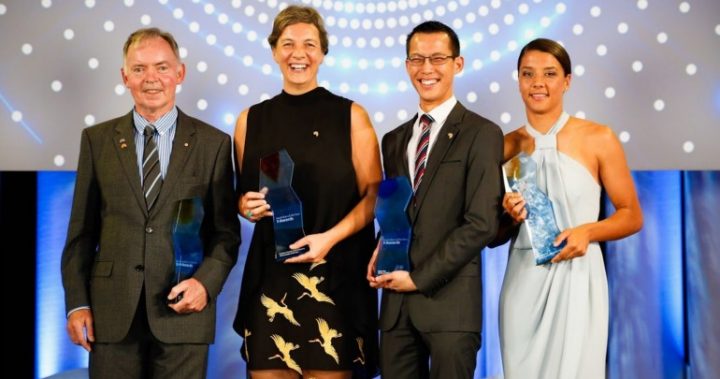 Australia has a new Australian of the Year and this time it's a woman. Professor Michelle Yvonne Simmons was awarded the top honour in Canberra on Thursday night for her groundbreaking work in quantum physics.
Maths teacher Eddie Woo was named as the Local Hero of the Year, while biophysicist Dr Graham Farquhar took home Australian Senior of the Year and female AFL player Samantha Kerr won Young Australian of the Year.
Prime Minister Malcolm Turnbull presented the recipients with their trophies at the Great Hall of Parliament House, praising them for their "patience and persistence" and for "leading us to a brighter future".
Simmons' award comes 19 years after she immigrated to Australia from the UK to transform the University of NSW quantum physics department into a world leader in advanced computer systems.
A world leading quantum physics professor whose work could revolutionise drug design, weather forecasting, self-driving vehicles & artificial intelligence – the 2018 #Ausoftheyear is Prof Michelle Yvonne Simmons https://t.co/S4DWDQXCad pic.twitter.com/cjc0nK81A8

— AusoftheYearAwards (@ausoftheyear) January 25, 2018
Ad. Article continues below.
Simmons, 50, is recognised around the world for work, which is expected to pioneer a quantum leap in computing and reshape the way we live and how we experience the world.
In 2012, Simmons and her team created the world's first transistor made from a single atom, along with the world's thinnest wire. The breakthrough means Australia is now at the forefront of what she calls the "space race of the computing era".
Her aim is to build a quantum computer able to solve problems in minutes which would otherwise take thousands of years. Such a discovery has the potential to revolutionise drug design, weather forecasting, self-driving vehicles, artificial intelligence and much more.
Simmons was facing some tough competitors for the top honour this year, with high-profile Aussies Samuel Johnson and NRL player Jonathan Thurston both nominated. However, none could top the scientist powerhouse.
Ad. Article continues below.
In her acceptance speech, Simmons said it was Australia's attitude of independence and defiance that spurred her through challenges she'd faced in a male-dominated industry, the ABC reports.
"Our distaste for authority means we think for ourselves. Best of all, we are prepared to give those hard challenges a go," she said."I firmly believe there is nowhere else in the world better to do scientific research and challenge what's possible."
It's the second year in a row a scientist has won the award. Simmons takes the baton from Professor Alan Mackay-Sim, a biomedical scientist treating spinal cord injuries.
Do you think the right person won? Who would you like to see take home the prize next year?