Q&A tackles the big question - could Pauline Hanson ever be PM?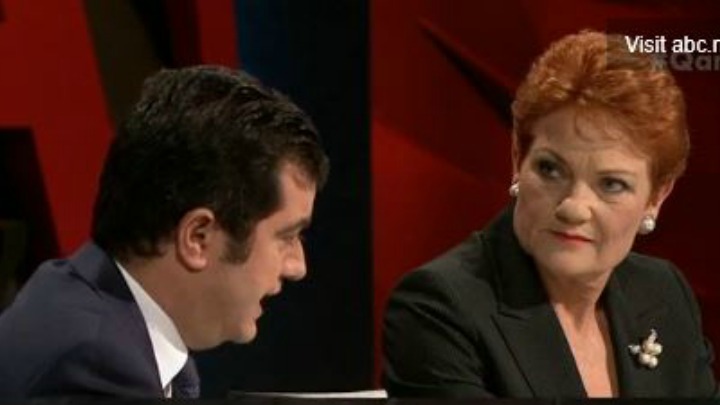 ABC's Q&A is known for its healthy debates on just about every topic.
But if you watched last night's episode, then you'll know it mostly came down to debate about Donald Trump's election win.
And as you've probably heard debated in the past week, there are a lot of people who believe Pauline Hanson and her One Nation party could one day "do a Trump" here in Australia.
Read more: Could Pauline Hanson 'do a Donald Trump'?
So when the question of whether Pauline Hanson could one day be elected Prime Minister was asked on Q&A last night, the response was as you might have expected.
Ad. Article continues below.
There were laughs from the audience, and dismissals from the panel.
Labor's Kate Ellis, the Shadow Minister for Vocational Education, said "no".
"We should keep reminding ourselves that we are not America … I don't think we should all start getting the Pauline for PM merchandise ready," she said.
"But that's not to say that we shouldn't heed the warning and make sure we do look at the rising levels of inequality and we do make sure that we are bringing along the Australian public with us."
Read more: The rise of Donald Trump and Pauline Hanson proves people are hungry for straight-shooters
Ad. Article continues below.
Deputy Prime Minister Barnaby Joyce also had his say.
"Look, I respect the half-million people who voted for One Nation, but it's a lot harder running the show than talking about the show," he said.
There was a lot of talk on the episode about why Donald Trump won.
Joyce said many of the vote "was not so much for Trump" but more "a sense of 'I'm sick of being told how to think by others'.
"There's a sense of frustration among people. They feel they're being belittled. They feel they're not being listened to. They feel that every time they stick their hand up they're somehow ridiculed because their beliefs are not of the standard fare," he said.
Ad. Article continues below.
"However, when people feel belittled and when they feel isolated from the political system they can still vote and they do and they turn up."
Security and Diplomacy professor from, RMIT University, Joseph Siracusa gave a scathing review of Trump, describing him as "an appalling human being".
"I don't think he has any damn policies. He's as dumb as Ronald Reagan and meaner than Richard Nixon," he said.
"But I accept he had a base out there. And they were conspiratorial alright, they thought professional wrestling was real and the moon landing was a fake.
"You can't say those things (Trump said) in public and expect us to forget it the day after. He's an appalling human being.
"Whether he sticks to policy, we don't know. I'm appalled that the world thinks we think that is the new normal. It is not the new normal."
Did you watch the episode? What did you think of the comments about Pauline Hanson and Donald Trump?