Q&A questions what we all wanted to make sense of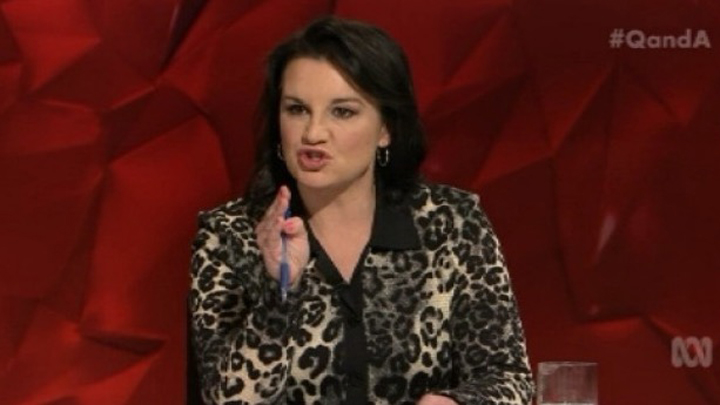 Last night, Q&A was back on its A-game with an interesting panel and equally interesting conversation. And, for the first time in what seems like weeks, the ABC program has questioned something we all wanted to make sense of – the Shenhua open-cut mine planned for NSW.
In a panel line-up that was almost bound to have some controversy, but Jacqui Lambie and Alan Jones seemed to be on the same page, at least when it came to the baffling decision to put a mine on agricultural land.
"What idiot would put a coal mine either on or near prime agricultural land?", was the question Alan Jones proposed last night, and it was followed by discussion of wind farms, politician allowances and tax reform – it was hard to keep track of all the figures being thrown about!
Independent senator Jacqui Lambie brought out numbers of her own on the debate over wind farms. She seemed to have some figures incorrect because the Twitter feed exploded when she detailed just how much agricultural land we have in Australia. She said, "Only 3.4 per cent of Australia is prime agricultural land. What idiot would put a coal mine either on or near prime agricultural land? Who would take that risk when prime agricultural land is only 3.6 per cent of Australia's mass?"
Former federal Nationals Cabinet Minister Tim Fischer defended the move and clarified the numbers, reasoning, "The mining area covered in the Federal electorate of New England is 0.1 per cent. In the Hunter Valley, it is 1 per cent, thus the average for the State of NSW, including our prime agricultural land occupied by mining? 0.1 per cent".
Ad. Article continues below.
Perhaps the most interesting of the questioning and answering came from Jones when he half-defended the actions of House Speaker Bronwyn Bishop, and the controversy surrounding her lavish spending.
He said that Labor frontbencher Tony Burke and other speakers of the house have had their own field days with the Government's money, however he did say "the notion of going from Tullamarine to Geelong in a helicopter is bloody ridiculous".
"I think in all of these things, politicians are hopeless at explaining – sorry, Mark, but hopeless at explaining – the GST in many ways," Jones told Shadow Minister for Environment Mark Butler.
After a big night of some serious stats and talking, Senator Lambie asked the very question that had us all on our seats: "are you an angel, or a bad boy?"
"Could be both", Jones said. There you have it folks!
Tell us, were you happier with Q&A last night? Do you think the right debate was brought up? What are your views on the Shenhua coal mine?