Putin 'shirtfronts' Turnbull over Syria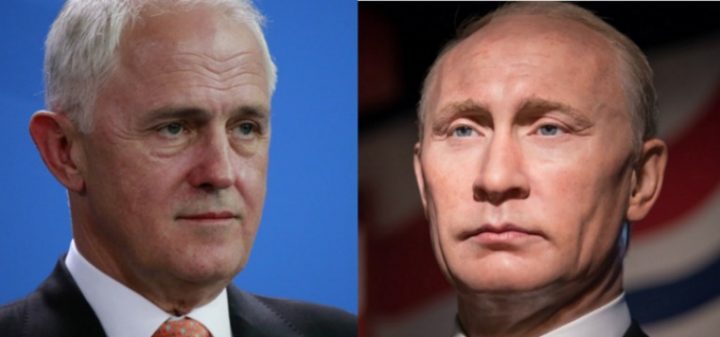 You might remember Tony Abbott's threat to 'shirtfront' Vladimir Putin at the G20 two years ago?
Well now the Russian President has returned fire, and this time it was Malcolm Turnbull on the receiving end.
The ABC is reporting that Putin has confronted Turnbull over Australia's role in Syria at a meeting of the G20.
So what was actually said in the exchange?
Apparently, the Russian president asked Turnbull who Australia is fighting for.
Ad. Article continues below.
"I'm fighting for the legitimate Government of Syria," Putin said.
"Who are you fighting for?"
He also reportedly pointed out errors made by Western countries in the Middle East and said George W Bush should never have unsettled the region by ousting Saddam Hussein in Iraq.
Putin said the US and Australia were making the same mistake in Syria, "playing into the hands of radical Islam".
Does Putin actually have a point?
Ad. Article continues below.
It turns out Australian sources have described it as a good question.
To understand the war in Syria, you have to understand the different sides of the conflict.
Australia and the US are battling Islamic State in Syria, but they do not support the government of President Bashar al-Assad.
Russia on the other hand is supporting the Assad Government's battle against Islamic State and rebel groups trying to oust the government.
And of the US are providing assistance to the anti-Assad rebels.
Ad. Article continues below.
Sounds complicated doesn't it?
The confrontation between the two leaders follows a break-down in talks between Putin and US President Barack Obama over a deal to bring back a ceasefire and work together on strikes against Islamic State.
Is Putin right to question Australia's involvement in Syria?