Public opinion brings Bill Cosby down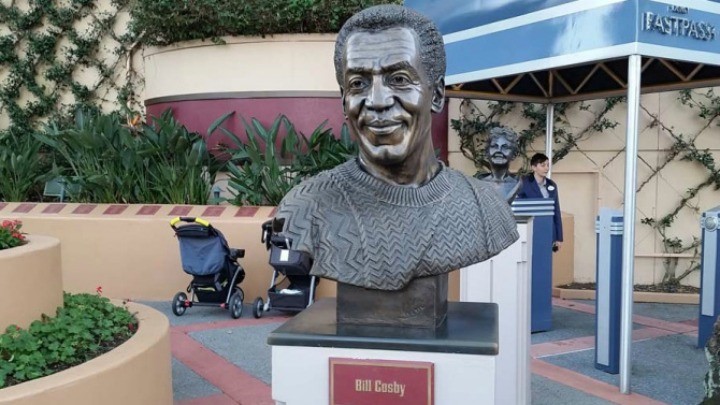 In light of this week's revelations that Bill Cosby admitted to acquiring sedatives to give to women in order to have sex with them, the American actor has seen a wave of public opinion turn against him.
This despite the fact he has not been charged for any wrongdoing.
Today Cosby lost his Hollywood agent but perhaps that's not quite as crushing a blow as his likeness being removed from one of the world's favourite theme parks.
Hollywood studios, a Disney park near Orlando in the US is scattered with busts of popular entertainers inducted into the East Coast Hall of Fame of the Academy of Television Arts and Sciences. Cosby was inducted in 1992, joining the likes of Carol Burnett, Mary Tyler Moore, and Walt Disney.
When his statue was erected Cosby said, "I've never had a statue before and what I want to make sure is that the face on the statue I feel is really my face. And then I want to make sure that they don't make my stomach too big."
Ad. Article continues below.
However last night, the statue came down.
Disney offered no explanation but it is most likely due to a Change.org petition started by the niece of Linda Traitz, who said Cosby offered her a briefcase full of drugs before assaulting her in 1969. (Cosby has denied the charge.)
Ms Traitz told The Washington Post last year, "He offered me pills and said it would help me to relax, and I kept refusing but he kept offering."
Ms Traitz's niece started a Change.org petition denouncing the statue and, although the campaign only gathered 300 statues, it clearly had an effect. Disney contacted the alleged victim's niece and told her the Cosby bust would be removed.
"He has no place in Disney," the niece said in a TV interview. "It's not a place for a predator. To see the bust of Bill Cosby as a hero on a pedestal in Disney after the family history, and we know of what had happened to my aunt all those years ago, it's hurtful."
Despite the allegations and rumours, Mr Cosby has not actually been charged with any offences. The release of documents from a deposition in 2015 this week reveal the actor admitted to giving Quaaludes, a powerful sedative, to women.
Bill Cosby should be innocent until proven guilty but the public has clearly made up its mind about him. Is that fair?