Proud Indigenous dads are countering The Australian's 'racist' cartoon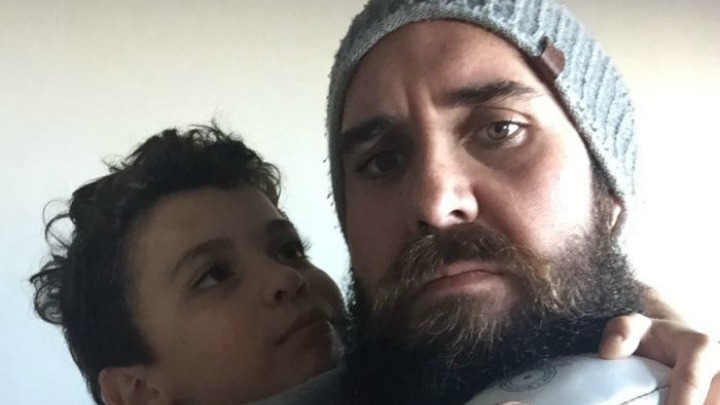 Indigenous fathers and their families have responded to an "offensive and racist" cartoon by Bill Leak published in The Australian newspaper on Thursday, using social media to share photos and memories of their family life.
Mr Leak's cartoon, published last week, portrayed an Aboriginal man holding a beer can and not remembering his son's name, while an Indigenous police officer holds his son by his collar.
The cartoon, painful as it was, turned into an affirmative moment on social media. Indigenous Australians have posted their own photos to Twitter of real and positive experiences of fatherhood using the hashtag #IndigenousDads.
The newspaper's editor-in-chief, Paul Whittaker, defended its decision to publish the cartoon and praised Mr Leak for bringing confronting issues to light.
"Too often, too many people skirt around the root causes and tough issues," Mr Whittaker said in a statement.
Ad. Article continues below.
Mr Leak himself called his critics "sanctimonious Tweety Birds having a tantrum".
Users challenged the stereotype shown in Mr Leak's cartoon with photos and memories of love and dedication, and pride in Aboriginal culture.
Here are some of the tweets:
That's me & my youngest.. And that's a FISH!!!!! Not a beer can!!! .. You CANNOT stereotype me!!! #IndigenousDads pic.twitter.com/UGoE5qjS9e

— Chris Sarra (@chrissarra) August 7, 2016
Ad. Article continues below.
#IndigenousDads can't take his eyes off his baby girl 💜 pic.twitter.com/pS9LCtMqVD

— Jane Cattermole (@janecat60) August 6, 2016
When I graduated from Uni my Dad was right by my side – as always #IndigenousDads pic.twitter.com/SinXiXHeTx

— Leeanne Enoch MP (@LeeanneEnoch) August 7, 2016
Her dad makes her feel awesome #indigenousdads pic.twitter.com/ZzwFCt861V

— chelsea bond (@drcbond) August 6, 2016
Ad. Article continues below.
No only do I know my sons name but I named a superhero after him. #IndigenousDads #Cleverman pic.twitter.com/mfvd0vyc4S

— Ryan Griffen (@RyanJGriffen) August 6, 2016
This is my indigenous dad… And no, that's not beer in his hand, it's a Helpmann award #IndigenousDads @australian pic.twitter.com/S6FZBLQujk

— Hunter Page-Lochard (@hunterpage) August 7, 2016
Ad. Article continues below.
this is my Dad who continues to set examples to his kids on ways to strengthen himself & community #IndigenousDads pic.twitter.com/uYM5KY2hrH

— The Funkoars (@funkoars) August 7, 2016
#IndigenousDads showing Summer how to catch barramundi pic.twitter.com/Bbq2nsHZuZ

— Jane Cattermole (@janecat60) August 6, 2016
Loving, supportive and wise. From the barrage of tweets, it's clear the message #IndigenousDads wants to convey – Indigenous fathers are all those things, and more.
What do you think about this social movement?