Proof that politicians probably shouldn't dance in public. Ever.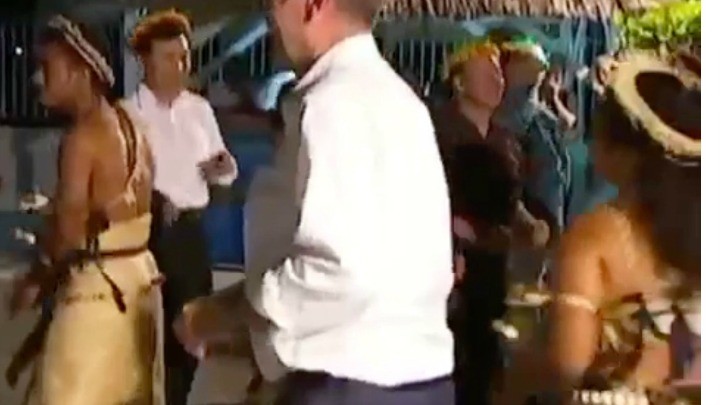 Spare a thought for our poor politicians, who not only have to cope with the state of Australia in the 21st century but also have to put up with the fact that their every move is captured on some kind of digital device and shared indiscriminately.
This is certainly the case for Labor leader Bill Shorten who was on tour in the tiny island nation of Kiribati.
He was there to discuss climate change with the leaders of a country that will be underwater thanks to sea level rises in the coming decades, but he and Tanya Plibersek found time to join in some traditional festivities.
While many of us may applaud his efforts to match the locals' dancing style, others have suggested that his twirly-shuffley dance might be as good as it gets for Bill.
This video has been shared widely and the comments have not been kind…
Ad. Article continues below.
So you think you can dance? Opposition Leader @billshortenmp busts a move on his visit to Kiribati #auspol https://t.co/9eXH8yPxZD

— ABC News (@abcnews) November 3, 2015
@abcnews @billshortenmp Bill doing what he does best, turning in circles

— Karon Leah Ely (@Karonleahely) November 3, 2015
@abcnews Bill supposed to be against climate change but caught doing rain dance

— Mohammed Goldstein (@Chlorine13) November 4, 2015
Ad. Article continues below.
@abcnews @billshortenmp Julia Gillard dancing at Joan Kirner's 60th Birthday… pic.twitter.com/6xfF7nx3ud

— Citizen Assange (@Senator_Assange) November 3, 2015
Perhaps Mr Shorten's next move might be a stint on Dancing With The Stars a la Pauline Hanson.
What do you make of Bill Shorten's dancing? Thumbs up or thumbs down?