Pro-Brexit politician collapses after party room altercation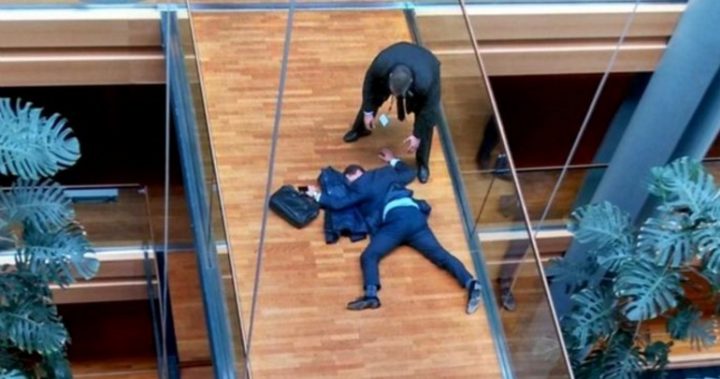 One of the leading members of the European Parliament from the UK Independence Party (UKIP) has collapsed and been taken to hospital after an "altercation" in a party room meeting.
Steven Woolfe was rushed to hospital after he collapsed in a hallway and was found sprawled across the ground still clutching his briefcase.
Mr Woolfe was treated at the scene before being taken away in an ambulance.
UKIP leader Nigel Farage said there was an incident in the party room meeting right before Mr Woolfe lost consciousness.
"I deeply regret that following an altercation that took place at a meeting of UKIP MEPs this morning that Steven Woolfe subsequently collapsed and was taken to hospital," Mr Farage said.
Ad. Article continues below.
Later, Mr Woolfe released a statement saying he was OK.
"The CT scan has shown that there is no blood clot in the brain," he said in a statement.
"At the moment I am feeling brighter, happier, and smiling as ever.
"As a precaution, I am being kept in overnight awaiting secondary tests to make sure everything in fine.
"I am sitting up and said to be looking well. The only consequence at the moment is a bit of numbness on the left-hand side of my face."
Ad. Article continues below.
Tension within the UKIP has been high ever since Britain voted to leave the EU, with the party one of the biggest advocates for Vote No.
Mr Woolfe said earlier this week he would be putting his name forward to be the party's new leader after Mr Farage's elected successor stood down.
However, Mr Farage is now back in the top job.
Send your wishes for a speedy recovery to Mr Woolfe in the comments. Do you think Britain should have stayed in the EU, or were they right to leave?