Princess Mary shines in glamorous navy ballgown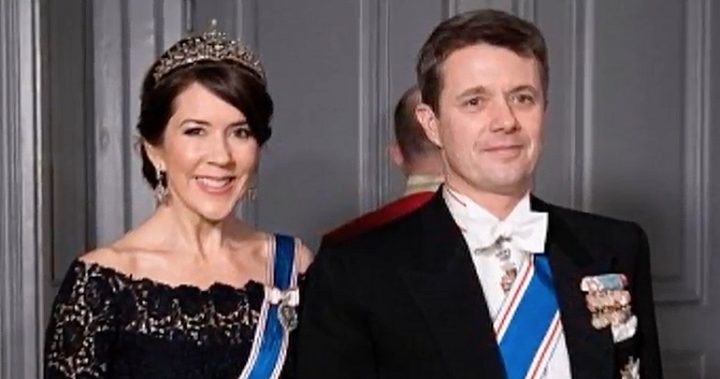 Crown Princess Mary has made a stunning appearance at an event in her home city of Copenhagen, arriving on the arm of her husband for the special occasion.
Mary and Crown Prince Frederik have just returned from a tour of Iceland as part of their royal duties sat down with over 100 guests at a dinner to honour the country's president.
Mary looked as beautiful as ever, wearing a gorgeous navy ball gown with a lace top and layers of fabric falling from the waist.
She donned a diamond tiara for the night and she and Frederik both wore matching light blue sashes.
Ad. Article continues below.
Frederik was looking sharp like always, sporting a tuxedo and plenty of medals to match.
They weren't the only Danish royals there either, with Queen Margrethe, Frederik's younger brother Prince Joachim and his wife Princess Marie also attending in their finest gear.
The entire family seemed to have a wonderful night together, but it was Mary and Frederik who once again caught the most attention.
Ad. Article continues below.
The couple seem to be just as in love as the day they married and were pictured smiling and laughing together as they socialised with guests.
While royal protocol can often be a bit stuffy and call for couples to show little affection in public, Mary and Frederik seems to have booted tradition on that front.
They are often pictured placing a loving hand on each other's arm and joking together.
Last year they wowed the crowed in New York by taking a spin on the dance floor at a ball in their honour.
Ad. Article continues below.
Frederik pulled Mary onto the floor and the pair could hardly contain their laughter as they spun around together to Stevie Wonder's 'Isn't She Lovely'.
It's so nice and refreshing to see this new generation of royals still honouring tradition, but making themselves a little more relatable at the same time.
Are you a fan of Princess Mary and Prince Frederik? Do you think this generation of royals is more people friendly than the last?