Princes, kings and queens flock to European royal wedding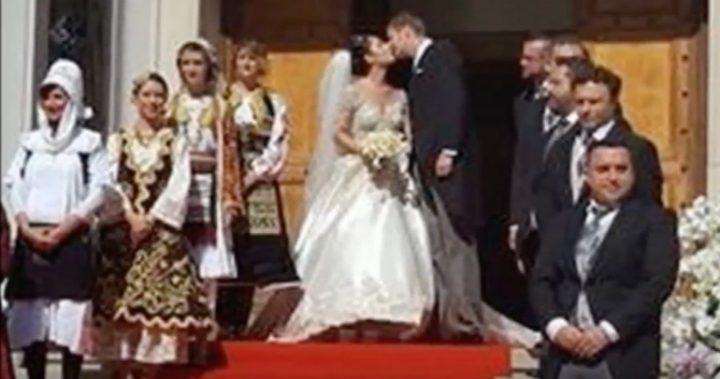 You might not have ever heard of the country Albania, or its king – King Leka II.
But when you see his wedding pictures you're sure to remember him.
King Leka II has married his longtime fiancee Elia Zaharia in a lavish royal wedding attended by members of 20 royal families from across the world.
You might be wondering what is so special about the wedding?
Ad. Article continues below.
Well, it's just the second royal wedding for Albania – a country where the royal family were stripped of their power, status and official roles by communism after the Second World War.
King Leka II and Elia got engaged in Paris in 2010, but apparently only started planning their wedding earlier this year.
Among those on the guest list were Queen Elizabeth II's cousin Prince Michael of Kent, Queen Sofia of Spain and Princess Lea of Belgium.
What do the Albanian people think?
Ad. Article continues below.
Well, the head of a small monarchist party in the country said the royal wedding would endorse the status of the Albanian royals.
"The fact that over 20 royal families and more than 100 aristocrats from all over the world will participate in this wedding is an indicator of the approval that the Albanian royals have," Sulejman Gjanaj said.
"This is the best reply to all those who have falsified the history of our country and have denied the legitimate rights of the royal family."
According to the Daily Mail, younger Albanians seem indifferent about the wedding.
Ad. Article continues below.
But there is some buzz amongst older generations.
A 70-year-old Albanian pensioner quoted in the Daily Mail said the country was better when the royals were in power.
"His grandfather (King Zog) contributed a lot to Albania and undertook reforms to improve the country's economy and even reform social life in the country," the pensioner said.
"We shouldn't forget that King Zog, a Muslim, married a Roman Catholic wife, paving the way for religious tolerance in the country.
"Albanians during his time were much freer than under communism. But it was communism that tried to distort his character."
What do you think of the wedding photos? How great does the young royal couple look?!