Prince Harry and Meghan Markle pictured together for first time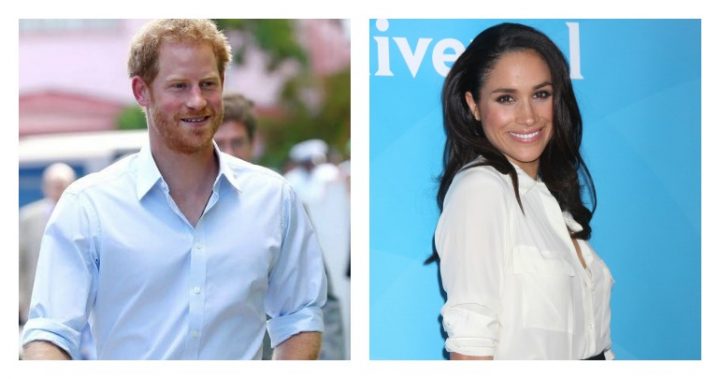 It looks like Prince Harry and his actress girlfriend Meghan Markle are getting into the Christmas spirit with the pair spotted together for the first time shopping for Christmas trees in London.
The loved up couple seemed to be having a great time, with a shop assistant who served them at the pine tree store saying they were extremely relaxed and made each other laugh as they joked around and chose the perfect tree to take home together.
Meghan is visiting Harry in London in the lead up to Christmas with the pair taking any opportunity they can lately to spend time together.
Later, they were photographed walking through London's West End district on their way to see the comedy play Peter Pan Goes Wrong just like any other normal couple would.
They were smiling as they walked hand in hand, with many people doing a double take when they realised who had just strolled by.
Ad. Article continues below.
With Meghan being an actress it's no surprise the pair enjoyed a night out at the theatre together. She's talked about her love for the stage before and it appears Harry is just as interested in the theatre as she is!
The pair returned to London from Toronto, where Meghan lives, just days ago and while they've kept a low profile, it appears they're happy to step out in public together now after having a few months of privacy to themselves.
Ad. Article continues below.
The photos have sent fans into a spin, with many sending message of support and positivity to the pair.
Meghan recently wrote an essay for a British magazine where she talked about the racism and hate she had been subjected to throughout her life for being the daughter of a white man and a black woman.
Read more: Prince Harry's girlfriend pens powerful story about abuse
Ad. Article continues below.
Thankfully, the well-wishers have drowned out the haters this time, with hundreds of people commenting online to say they wish the couple nothing but the best for the future.
Friends of the pair have said they're completely infatuated with each other and it's enough to make us oldies nostalgic about the days we first met out partners!
The couple seem to be enjoying their honeymoon period together and enjoying all the loved up feelings and happiness that comes along with young love.
Do you remember when you first met your partner? Are you a fan of Harry and Meghan?