Prince George and Princess Charlotte steal the show as royals arrive in Canada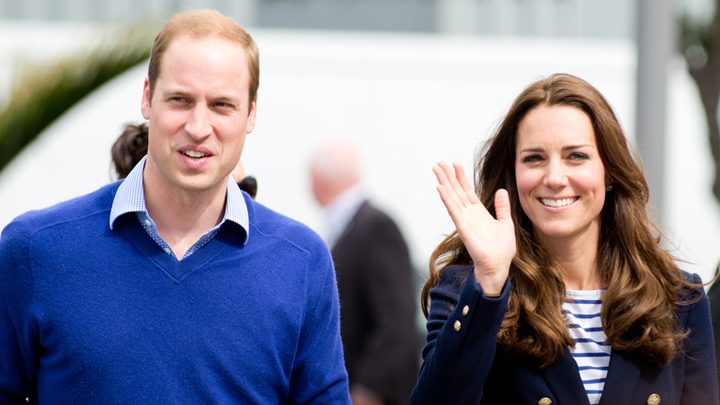 Prince William and Duchess Catherine have arrived in Canada with their children for a highly anticipated eight-day tour.
Blue seemed to be the royal colour as the family stepped off the plane. While the Duchess looked stylish as always wearing a blue fitted dress with a collar feature, and William sported a navy suit.
But all eyes were on the young prince and princess who are rarely seen in public together and likely to steal the limelight away from their parents. Three-year-old Prince George was adorable in a blue wool jumper, and Princess Charlotte, 16 months looked sweet in a blue floral dress with a matching hair slide, as the family descended down the stairs to the tarmac.
Catherine accessorised with a blue hat, which was decorated with maple leaves as a tribute to her Canadian hosts, as was the Queen's brooch, given to the late Queen Mother by her father, King George VI, to mark the state visit to Canada in 1939.
She wore it frequently afterwards, sometimes as a hat badge, and loaned it to the young Princess Elizabeth for her first visit to Canada in 1951.
It was inherited by the present Queen in 2002.
Her Majesty loaned it the brooch to the Duchess of Cambridge for her first visit to Canada in July 2011.
William and Catherine last visited a few months after their 2011 wedding and have now returned with the children.
The royal family arrived in a Royal Canadian Air Force jet that landed at Patricia Bay, the home of a maritime helicopter squadron close to Victoria, the capital of British Columbia.
Waiting at the bottom of the plane's steps to greet them was Canada's Prime Minister Justin Trudeau and his wife Sophie Gregoire, who was equally as stylish as Catherine.
After a few moments greeting dignitaries, the young Prince warmed up to wave enthusiastically at the cameras. Princess Charlotte too, with the encouragement of her mother, waved her hand before gazing around her at her new surroundings.
Both children were greeted by  Mr Trudeau, who knelt down and offered his hand to a shy Prince George to high five.
The tour is Charlotte's first official royal visit; George has travelled to Australia and New Zealand with his parents in 2014 when he was nine months old.
Highlights of the trip to Canada's east coast will see William and Kate experience the stunning natural world of the province of British Columbia and the territory of Yukon, where they will go fishing, sightseeing and meet First Nations communities.
How amazing does everyone look? Who's style do you like best?
Ad. Article continues below.