Prince Charles and Camilla received some bizarre gifts in their travels last year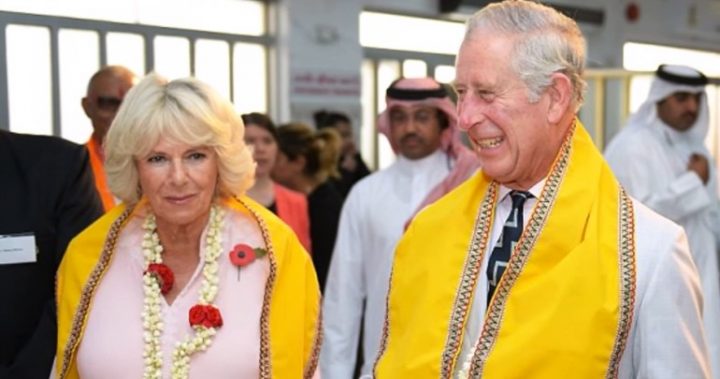 Have you ever wondered what kind of presents a prince gets on his travels?
Well, a report published in The Daily Mail has revealed some of the unusual gifts Prince Charles and his wife Camilla Parker-Bowles received on their travels last year.
Some of the gifts are downright bizarre!
Charles and Camilla undertook three official tours last year, including a visit to the Middle East in November.
While in the Middle East, the royal couple were guests of the royal family of Bahrain – King Hamad bin Isa Al Khalifa and his family.
Ad. Article continues below.
He bestowed some interesting gifts upon Charles and Camilla, including a chess set and a watch for each of them.
Prince Salman bin Hamad Al Khalifa gave Charles a black and white photograph of the two of them together in an ornate frame, while Princess Sabeeka Bin Ibrahim Al Khalifa gave the royal couple a pair of pedestal dishes laden with pastries and sweetmeats.
Some of the other gifts the royal couple received in the Middle East included a cushion cover from the Supreme Council of Women, a sword, two pairs of Bedouin socks and a wooden model of a boat.
They were also gifted 12 baskets of pomegranates from the Sultan of Oman.
We've all gotten a strange gift at some point in our lives, but it seems to be a common occurrence for Charles and Camilla.
Ad. Article continues below.
While touring parts of eastern Europe, the royal couple were given everything from cured sausage meat to paprika in Croatia, a bar of soap in Kosovo and an apron in Serbia.
Charles was given a pocket square by Prince Alexander Karadjordjevic and Princess Katherine of Serbia and a sword from the Mayor of Dakovo in Croatia.
The royal couple were also gifted seeds, toy dolls and a box of toiletries during their tour of Ireland.
While the royals are given gifts on their tours, they never actually own them.
Officials gifts must be declared annually and while they can be used and worn, they are not to be sold.
Ad. Article continues below.
Instead, they become part of the Royal Collection, which is held in trust by the royal family and the British people.
Tell us, what's the most unusual gift you've received? What do you think of the gifts given to Charles and Camilla?